UnNews:English king blames private security firm for lack of troops at Agincourt
Jump to navigation
Jump to search
---
Fake News that's honestly fake
✪
UnNews
✪
Saturday, April 1, 2023, 06:10:

59

(UTC)
---
| | | |
| --- | --- | --- |
| English king blames private security firm for lack of troops at Agincourt | | |
22 July 2012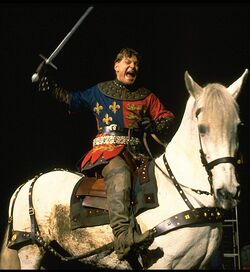 AGINCOURT, France, October 24th 1415 -- Henry V of England has blamed a private security firm for not providing him with enough soldiers on the eve of his battle against a French army at Agincourt. Speaking in non rhyming verse and wearing armour, Henry mounted a horse to strike out at a Medieval press conference.
30,000 men I was promised by words so fair
In deeds, I received a ragged third,
Those varlets, those scoundrels who took my purse,
I will thee strip flesh from thee, when from this field I go.
The king attacked his own government for the fiasco. They in turn have claimed the 'Return Henry's Legally Held French Lands 1415 committee were culpable for hiring private security company G4S to provide soldiers, horses and hay for the royal army. In turn, G4S have alleged the money wasn't enough to pay for the contract which they say was extended to organise a full conquest of France. Management costs, gifts of tapestries and 'hearty banquets' in great halls took the rest. This left very little money to start recruiting for a war.
Henry has instructed that those responsible will have their heads stuck on spikes on London Bridge and their body parts spread around the kingdom. A spokesman for G4S provided this comment as he was dragged on a hurdle for his execution:
On behalf of G4S, I would like to apologise...sorry what was that? I am going to receive the full force of the treason punishment...mercy...mercy!!!...
Henry's army has already suffered desertions and looting. The English king spared no one his wrath and executed old drinking buddy Bardolph as an example. The rest of the English army have meanwhile camped on a muddy field marked Ici Rosbifs . Henry however said he remained 'upbeat' and had some cracking speeches in reserve to encourage his remaining soldiers.
So my scallies, we band of happy go-lucky-chums,
Fear not the French with their breath so unsweet,
Let fly your weapons, cut down those..damn clunky verse!,
I will retire to my tent to craft my words anew..
A source close to Henry - his acting Lord of the Stool, Sir George of Osborne - added that his majesty was banking on the French army would help him by choosing the wrong tactics to fight the battle tomorrow. Osborne said 'there will be plenty of cuts, thrusts and the loosening of bowels' in the coming clash.
Sources
[
edit
]