UnNews:Couple flips over jigsaw puzzle, discovers biblical secret
Jump to navigation
Jump to search
---
Where man always bites dog
✪
UnNews
✪
Wednesday, December 1, 2021, 07:05:

59

(UTC)
---
| | | |
| --- | --- | --- |
| Couple flips over jigsaw puzzle, discovers biblical secret | | |
29 August 2021

DOLLES VALLEY, Australia -- Upon solving a jigsaw puzzle together, an Australian couple were surprised to acquire definitive evidence regarding a long-contested archaeological question, with deep implications for our understanding of history and theology.
(Ray; husband:) "We saw an advertisement for a clever new kind of jigsaw puzzle - one of those ones where you complete the puzzle to reveal a hidden illustration on the other side. We've always loved puzzles- I mean, since the plague began we've always loved puzzles and figured this would make a great bonding exercise for us as a couple, particularly if we managed to complete it before our frustration with lockdown caused us to tear each other's eyes out.[1]"
(Sylvie; wife:) "I was seriously considering stabbing my husband with a steak knife - as I figured that at least the time spent in court would be getting me out of this house - but when I saw the ad, I thought, maybe I'll let him live for a while... and now I'm almost sure that I did the right thing! ...Just kidding! Hahahahahahahaha..."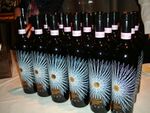 The couple say that the challenge presented by the puzzle had been entertaining them over the course of several days - but eventually they completed it.
(Sylvie:) "The instructions said to "flip over the puzzle" once it was completed and a secret illustration would be revealed. Every morning before my hubby would go to work in his home office and I would start packing school lunch for our daughter to take back to her bedroom, we would spend a few hours forgetting that there were soldiers patrolling the streets outside[2] and see how much progress we could make."
"We tried backflips, front-flips, cartwheels, tiddlywinks, flipcup and watching the movie Flipper but no matter what we did, it simply wasn't working for us. This was much harder than the previous puzzles we'd completed that we'd simply taken out of the box. I don't mean to brag but we'd already become pretty masterful at those: we recently did a 30,000 piece puzzle that we were told was one of the most difficult on the market and, using our box cutter, we had it sitting on the table in under a minute."
"The thousand dollars we had spent for those few seconds of quality entertainment had been worth it but when we saw this new challenge and that it wasn't going to break the bank (given that I suspect my husband Ray has been unemployed since the pandemic lockdowns started and that he has just been going into his home office every day to pretend - he was, after all, a mailman) we knew that we just had to be amongst the first to solve it."
(Ray:) "I selected one of the jigsaws from the "Haunted House" series in honour of the fact that for months my wife Sylvie has been preparing lunches for our daughter who had succumbed to coronavirus at the beginning of the pandemic - and ever since it had just been the two of us in the house."
(Sylvie:) "When they said the haunted house had a secret on the back, I was hoping it would be the face of our little daughter Ruby. Where are you, little Ruby? Hello? I know. You're Ruby. You're Ruby."
But the couple were in for a surprise when the picture on the back of the puzzle turned out not to be the face of their dead daughter but a missing Biblical scroll apparently written in Jesus Christ's own hand that gave instructions on how a Bible based on His teachings was to be prepared (the authenticity of which was later supported by rigorous DNA and carbonometric testing).
Sylvie was disappointed.
"...But let me show you the solution to the puzzle. It's actually quite clever. You see, the packaging that the jigsaw comes with is perfectly designed to allow you to flip the puzzle over. When the instructions say to "flip over the puzzle" what we eventually discovered was that this had a double meaning - it wasn't talking about doing flips above the puzzle but literally flipping the puzzle. Isn't that clever, Ruby? Aren't Mummy and Daddy clever too...?"
We spoke to Melissa Bomschell, one of the founders of the company that makes the puzzles and asked her why she never released the document publicly until now.
"Look, guy, we take our puzzles seriously. We said that what would be on the back would be a secret. Do you know how hard it is to track down actual proof of the authorship of the Bible? No? Well you don't tell me how to make puzzles and I won't tell you how to be a reporter. Do you have any idea how many of these puzzles we've had to make by now?"
Curious, we tracked down another couple that had purchased a puzzle - the Dufresnes - and discovered that their secret image was, in fact, the never-before-seen and what is now considered to be the last known picture of the smiling face of little Ruby. Apparently there'd been a mix-up in the mail.
Sources
[
edit
]