UnNews:Christmas workers report a spike in back problems
Jump to navigation
Jump to search
---
We have met the enemy, and he is us
✪
UnNews
✪
Saturday, December 2, 2023, 16:08:

59

(UTC)
---
| | | |
| --- | --- | --- |
| Christmas workers report a spike in back problems | | |
26 November 2022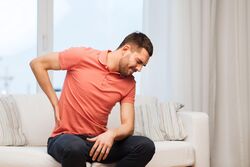 NEWCASTLE, UK -- Human-resources agencies have raised concerns over a spike in back-related problems among Christmas holiday shift-workers, as their rest periods draw to an end.
The influx of sick-notes, though varied in diagnosis, share the same problem for orthopedic physicians, in that they're all of the type that are difficult to verify, but can be controlled with a bag of trippy painkillers.
Sun-kissed HR manager Joseph Langley of TUI Holidays said: "The bad-back season kicked off early this year in October. It usually begins in late November, peaking early to mid-December and rapidly tailing off on Boxing Day. Many seem to be so debilitated, they don't even respond to WhatsApp messages.
"We are definitely in an epidemic if one looks at the numbers we would normally expect, when we would normally expect them and who we would normally expect them from. We are seeing a rapid rise from people who don't usually suffer back issues for about six weeks, once a year, at about this time of year."
There are several areas of concern regarding this particular bad back season. One is if people were suffering back problems after recently acquiring a nice new girlfriend or a fishing rod.
Another is patients who adopted a sedentary lifestyle on leave or have strained their backs trying to extract themselves from the vice-like grip of an armchair. A bigger concern is that, by the time patients finally get an appointment, they would have either recovered and been on their third rotation, or died.
Companies have taken on tens of thousands of lawyers in preparation for the influx of "injury at work" compensation claims, after an employee last December successfully sued for a work-related back injury after slipping on a fried egg at home, because the accident technically happened during work time — even though she had missed her flight out the day before. Happily, though the permanent staff cannot be arsed to as much as file expense vouchers or participate in a performance review, the hefty new lawyer budget bodes well for the macroeconomy.
There's also gathering suspicion there are a few Team Leaders who are even faking back pain, to avoid having to see the funny side in unwrapping thirty-packs of Anusol at the Secret Santa.
Sources
[
edit
]