UnNews:Butterball to start new gassing turkey program
Jump to navigation
Jump to search
---
A newsstand that's brimming with issues
✪
UnNews
✪
Sunday, November 28, 2021, 20:24:

59

(UTC)
---
| | | |
| --- | --- | --- |
| Butterball to start new gassing turkey program | | |
3 June 2013


Butterball Land -- Renowned turkey sales company, Butterball LLC, is beginning a brand new, state-of-the-art program.
Butterball LLC announced today that it will immediately begin working on a program that involves tear gassing their turkeys. Asked as to where they would come up with such a brilliant idea, Butterball spokesperson Robert Isil told UnNews that it came from a customer's suggestion portion of the corporate website.
Speaking to the media this afternoon, Isil reiterated what he had told us: "After reviewing years of customer suggestions, most of which were patently stupid, we came across this gem from Tayyip Erdogan, who is apparently some sort of important government official in some other part of the world. It simply said: Gas the turks. All of them."
Most meat experts are divided on exactly how this new program will work. We were lucky enough to manage to catch up with the Turkey Blog's Tim Stevens for some analysis.
UnNews correspondent Pocketthesaurus: Tim, how exactly is this program going to work?
Tim Stevens: You know, Pocket, I'm not really sure. I've never heard of tear gas being lethal, so I'm not sure what they're trying to accomplish.
UNCPT: Well, okay Tim, that's what I thought, too.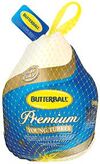 Other experts on turkey(s), such as Secretary of State John Kerry, who spoke at a White House press conference earlier this evening, completely disagree with Tim's analysis.
Kerry posited, "You know, this isn't about killing any turks. It's really just about making them tear up. I think we all know that crying is ultimately a sign of tenderness, and who doesn't like a tender turkey?"
As of this publication, animal-rights idiots PETA have demanded immediate action, and are planning on staging a protest in the next few days. It is likely that they will finally get to feel the pain of the animals they are defending when they are tear gassed in droves later this week.