UnNews:Bush targets approval ratings with distraction plan
Jump to navigation
Jump to search
---
A newsstand that's brimming with issues
✪
UnNews
✪
Monday, December 6, 2021, 18:41:

59

(UTC)
---
| | | |
| --- | --- | --- |
| Bush targets approval ratings with distraction plan | | |
27 January 2007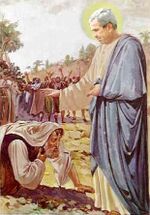 WASHINGTON D C, Thursday (UNN) — The White House, faced with the lowest approval ratings for any president ahead of a State of the Union since Richard Nixon in 1974, yesterday sought to create a comprehensive "HEY, LOOK OVER THERE!" package to present to the electorate.
Under the plan put forth in George Bush's State of the Union speech, the White House will offer a new health care package, and new measures on immigration, education, energy security and gay marriages.
"Those gay marriages," said the President. "Whooo! Greatest threat to our nation! Really! Only a Republican government will fight gay marriages! That Nancy Pelosi shaves her balls every morning! I bet she's just going to marry a woman! Probably Hilary Clinton! That'd be horrifying! THINK OF THE HORROR OF GAY MARRIAGES!"
A Washington Post poll on Monday showed Mr Bush's approval ratings had fallen to 33 per cent, on par with the lowest levels since he took office. That compares with 26 per cent for Nixon in 1974. The poll also found that 51 per cent of Americans strongly disapprove of his performance, the lowest levels of his presidency.
"Under the president's plan," said White House, Inc. spokesman Tony Snowjob, "milllions and millions of people will have lower health insurance fees, we'll keep the spics, ah, for'ners out, we will make sure every child gets a high school diploma printed on really nice paper, California will never have a blackout again 'cos Arnie will kick the power companies' asses, and good and decent churchgoing people will be protected from the menace of gay marriages."
When Mr Snowjob was asked about Iraq, he called our reporter a "terrorist sympathiser" and called Security to have him thrown out.
Senators Barack Obama and Hilary Clinton were seen cackling and rubbing their hands together at the back of the room, with the 2008 Democratic Presidential nomination considered likely to go to the first one to change their legal name for the ballot paper to Anyonebut Bush.
Sources
[
edit
]