UnNews:Bush awards medal to Scooter Libby
Jump to navigation
Jump to search
---
UnFair and UnBalanced
✪
UnNews
✪
Monday, December 6, 2021, 17:51:

59

(UTC)
---
| | | |
| --- | --- | --- |
| Bush awards medal to Scooter Libby | | |
6 March 2007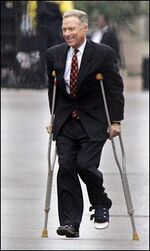 WASHINGTON, DC -- Immediately following his conviction on four counts of obstruction of justice and perjury, former vice presidential chief of staff I. Lewis "Segway Scooter" Libby was summoned to the White House for a surprise awards ceremony. During the lavish event, President Bush personally awarded Mt. Libby with the nation's highest civilian award - the Presidential Medal of Freedom.
In a speech praising Libby's accomplishments, the president described how the recipient was "willing to sacrifice his personal freedom for that of higher-ups in the administration," and cited him as an example of a truly selfless American hero. Vice President Dick Cheney, who was present at the ceremony, shed a few tears, later telling reporters that "Mr. Libby's perjurious testimony is the only reason why I am not behind bars right now." Karl Rove echoed the same sentiment. As part of the award, Bush promised Libby to use the taxpayers' money to pay all fines and legal costs related to his trial.
Meanwhile, special prosecutor Patrick Fitzgerald and the jurors that convicted Libby were swiftly flown to Guantanamo Bay, where they are to be held indefinitely as "enemy combatants and traitors to the American way of life." White House spokesman Tony Snow suggested that "anyone else who brings up the Valerie Plame investigation will be shipped away as well."
Sentencing for Mr. Libby is scheduled for June 5th, and although he faces a maximum of 30 years for the charges, federal sentencing guidelines suggest only 1 to 3 years. Furthermore, George Bush's sentencing guidelines suggest zero years. Aides also confirmed that in the worst case scenario, the President is of course ready to issue a pardon. As soon as all the legal proceedings are over, Mr. Cheney promised to re-hire Libby as his chief of staff, as he is clearly "the best man for the job."
The jubilant Scooter Libby thanked everyone for their support during the trial, and assured supporters that his sacrifice was "well-worth it" and then he would do "absolutely anything" to keep the Republican establishment in power. The convict joins an elite group of individuals who have received the Presidential Medal of Freedom. They include former CIA director George Tenet, responsible for concocting fake WMD evidence for the Iraq invasion, as well as L. Paul Bremer, who ruled Iraq with an iron fist and let it slide into chaos during the first few years of the occupation.
Sources
[
edit
]