UnNews:Bush Calls U.S. Constitution "Naive"
Jump to navigation
Jump to search
---
Democracy Dies with Dignity
✪
UnNews
✪
Monday, December 6, 2021, 18:57:

59

(UTC)
---
| | | |
| --- | --- | --- |
| Bush Calls U.S. Constitution "Naive" | | |
19 August 2006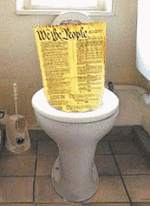 Washington, BC- In response to a Federal Judge's ruling that his warrant-less surveillance and wiretappings were illegal and unconstitutional, President Bush held a press conference at his personal retreat.
At this conference, President Bush lashed out as what many see as his biggest impediment: the United States Constitution.
"I strongly disagree with that document. Strongly disagree," President Bush said. The president called the Constitution, "out of touch with 21st century terror."
"Now look, here's the Constitution, it was written 200 years ago. They didn't have this kind of a threat. They didn't have to be adaptive. They made all these restricting rules, and there's no way to change it. It is out of place in this century, in this fight. Al-queda doesn't care about it, so we can't either."
As if to underscore Bush's point, Sen. Saxby Chambliss (R-Ga) added, "If the appeal continues and this decision's upheld, then we'll have to set policy that does comply with the Constitution. This takes away a vital tool in our war on terror. If we cannot sink to the level of Stalin and Hussein, how can we fight back?"
The White House's argument in support of the program is that Mr Bush's role as commander-in-chief of US forces gave him, "the inherent power to violate not only the laws of the Congress but the first and fourth amendments of the constitution", according to White House Spokesman Tony Snow.
In unrelated news, Federal Judge Anna Diggs Taylor was killed in an automotive accident involving three black limosines and one battered pick-up truck.
Sources
[
edit
]