UnNews:Bra brouhaha over official's decree
Jump to navigation
Jump to search
---
The news outlet with approval higher than Congress
✪
UnNews
✪
Thursday, December 9, 2021, 14:40:

59

(UTC)
---
| | | |
| --- | --- | --- |
| Bra brouhaha over official's decree | | |
19 May 2013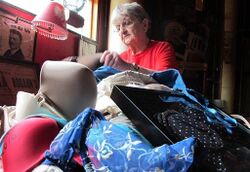 MILWUAKEE, WI – Marcy Skowronski, 87, the owner of Holler House, Milwaukee's finest bar-cum-bowling alley, doesn't count just on tenpins and pitchers of beer to fill out her bottom line. She also depends heavily—some say "top-heavily"—upon her establishment's female patrons' habit of tossing their brassieres onto skis hanging from the barroom's ceiling. The practice, which began 45 years ago, has become a tradition among floozies who have hoisted one too many round during a night on the town.
In fact, the custom is the source of the business' name, Skowronski says: "I call my place 'Holler House' because the boys holler—quite a bit—whenever one of the women tosses her bra."
The tradition has created other, related customs. For example, not only do female patrons "hang 'em high," long-time regular customer Maxine Wave, says, but "the girls—or, more often, their husbands or boyfriends—also nickname their women's brassieres, calling them Double Trouble, Twin Peeks, Pleasure Domes, and Tempest in a 'D' Cup."
Unfortunately for Skowronski and her patrons, in January, the town's fire marshal, something of a wet blanket, decreed that the ladies' unmentionables constitute a potential fire hazard, and the practice of tossing the doffed undergarments was prohibited.
"I guess he thinks they're too hot to handle," Skowronski quipped.
The fire marshal's decree stirred up quite a bra brouhaha. Steve Smith, a regular customer, organized a political-action committee, dubbed Holler House Hooters-Holders Rescue Operation (HHHHRO). After the group threatened to oppose the fire marshal's reelection, to turn other incumbents out of office, and to litigate the matter, if need be, the bras "have been returned to their rightful place," Smith declared. "The city backed down."
"I guess the fire marshal realized what a boob he's been over this whole thing," Smith said.
Skowronski is just happy she's able to rehang the brassieres. "After nearly half a century of my female patrons going topless, there's so many bras that I had to rent a dozen storage units just to store them."
If there's one thing that she can guarantee, though, it's that her business will be living up to its name when the Rehanging Ceremony occurs next month. "There'll be a whole lot of hollering at Holler House, that's for damn sure!"
She invites the public to attend the celebratory event. "There's a cover charge, though, for women," she warns, "or maybe it's more like a contribution. Female customers are required to donate a bra to the establishment's ever-growing collection."