UnNews:Australian PM praises citizens for flood
Jump to navigation
Jump to search
---
Where man always bites dog
✪
UnNews
✪
Tuesday, November 30, 2021, 14:53:

59

(UTC)
---
| | | |
| --- | --- | --- |
| Australian PM praises citizens for flood | | |
31 December 2010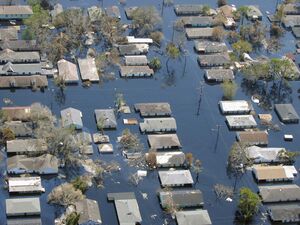 SYDNEY, Australia -- The Prime Minister of Australia has praised its Citizens for their hard work regarding the recent flooding. The Prime Minister said, "In my long political career I've never seen a flood so big and devastating and so well orchestrated. I'm surprised to see such an event in Australia, the citizens have pulled off a much bigger flood than Pakistan's feeble attempt earlier this year."
The Prime Minister, brandishing a tasteful red skirt, praised Australians for their efforts in an event which trumped all floods in 2010. In particular, the Prime Minister was amazed at how comprehensive the presentation was in one small town where people managed to flood the land so well that only the roofs were visible. "How did you manage to get the water level to exactly the roof lines of houses, leaving only rectangles and chimneys visible in the muddy water?" she asked a local constable. "Pure luck," he told her, "we couldn't get the water to exactly that height again if we tried for a hundred years."
While the Prime Minister has passed off this most recent feat as one of community togetherness, locals are upset that she seems to be using their accomplishment for her own political agenda. One local stated angrily, "We just wanted to get some use out of our boats", while another townsman said that there is nothing particularly Australian about the feat, but that it's more related to the culture, tradition and mental reasoning of the Southern Hemisphere in general.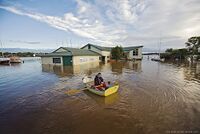 The recent news brings light to the Prime Minister's shaky start after a recent terrible election. She called the flood "a wonderful way to end a great year in Australian news-making". Australia hopes to become News-making Country of the Year, which may be difficult, considering the role of the Canadian Winter Olympics curling final, the ultimate ratification of the new, drawn-out EU treaty by the Czech Republic, and the United States Project Runway season 8 finale. "We have a sporting chance of winning," the Prime Minister said, "All we need now is another inch of rain and next winter we'll get Nicole and Mel to figure-skate on the rooftops in good ol' Southern Hemisphere choreography on Australia Day. We could get News-Making Country of the Year twice on in"!
Sources
[
edit
]
Torsten Blackwood "Australia PM praises flood victims 'resilience'". Agence France-Presse, December 31, 2010