UnNews:Article gets +21 votes on VFH
Jump to navigation
Jump to search
---
Your A.D.D. news outl — Oooh, look at the pictures!
✪
UnNews
✪
Tuesday, November 30, 2021, 14:37:

59

(UTC)
---
| | | |
| --- | --- | --- |
| Article gets +21 votes on VFH | | |
3 January 2009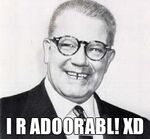 Only a few days after going back to featuring "Today's Featured Article" for only one day, instead of the previous two, the article, "The defense rests, your honor", received 21 "for" votes and no "against" after a mere 3 days on VFH. The article, nominated on VFH by SysRq, and written by noted admin Modusoperandi, is the first article to surpass +20 votes in eons on VFH. Upon hearing of his accomplishment, Modus is heard to have said, "I'd like to thank all of the little people that I crushed to get where I am," and, "Can I wear my Kernel Popcorn costume?" SysRq, the article nominator is quoted as saying, "I was the one who nommed that article; I deserve some recognition."
VFH is the process by which Uncyclopedia nominates articles for "Today's Featured Article", the article in the top left corner on the Main Page. All users of Uncyclopedia, including anonymous IP users, are encouraged to vote on VFH and nominate articles on VFH. However, anonymous IP votes only count as one half of the votes of registered users. VFH can be found here, by typing in VFH in the search box, by clicking the "Votes for Highlight" link under the community links on the left (it's second from the bottom between "Pee Review" and "Votes for Pictures"), and Uncyclopedia:VFH, in addition to several other redirects.
Many users have expressed approval of this accomplishment, as the more votes an article gets, the better an article is. Therefore, by voting on an article, one injects more quality into an article, in the same way that manufacturers "inspect" quality back into a finished part.
Additionally, this new high in vote totals will benefit uncyclopedia in several ways. First, the admins will not longer be forced to torture various cute animals to inspire users to vote in VFH. However, the Cabal stated, in a press release, that they are not sure if the VFH votes will remain high, and are not yet ready to recind their threats of cute animal torture, additionally, they stated that there is no cabal. As a final note, many of the articles that will get booted from VFH in the next 24 hours will be denied Quasi-Featured Status, due to the technicalities in the Quasi-Featuring rules.
Sources
[
edit
]