UnNews:Army Corps stymied by New Orleans rebuild problem
Jump to navigation
Jump to search
---
Your A.D.D. news outl — Oooh, look at the pictures!
✪
UnNews
✪
Tuesday, December 7, 2021, 05:43:

59

(UTC)
---
| | | |
| --- | --- | --- |
| Army Corps stymied by New Orleans rebuild problem | | |
4 September 2007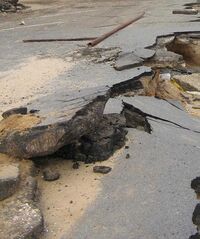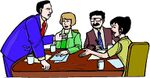 New Orleans, Louisiana -- According to a press release disseminated earlier today, the United States Army Corps of Engineers in New Orleans has "met a bump in the road that threatens the future of the entire rebuilding project." Specifications in the release give the bump dimensions of approximately eight feet in width and six inches in height at its pinnacle.

This newfound bump in the road is hugely problematic because, well, we can't get to the levees now.

~ James Simmons
"The bump was encountered at precisely nine hundred forty hours today," Corps Director James Simmons is quoted in the release, "and after nearly four hours of applying our sturdiest vehicles to the problem we have yet to surmount the bump." According to Simmons, an emergency meeting of Corps officials will convene this evening to discuss the issue.
The bump is located near the intersection of Bonnabel Boulevard and Claudius Street, mere blocks from Lake Pontchartrain. This area of New Orleans, situated along the city's northern edge, received heavy flooding from Hurricane Katrina in 2005 due to levee failure and overtopping.
One Corps site manager lays out the problem thusly: "This newfound bump in the road is hugely problematic because, well, we can't get to the levees now. We're blocked off. And if we can't get to the levees, we can't exactly repair and improve them, can we?"
No official word has yet been given as to plans to neutralize the bump, but one anonymous source gives UnNews a sobering summation of the possibilities: "A request has been submitted for a feasibility study to address the removal of the bump. And once Congress approves additional funds, that study can commence. Until then we can't even consider how to overcome the bump. We would attempt to bypass the bump and use another street, but nobody on the team has a New Orleans road map. The funds for their purchase is still in committee and without a map the possibility of getting lost and stranded is far to risky, as was shown in a "risk study" taken last Fall.
In the end, the simplest course of action may be, in fact, inaction. Our unnamed source claims that higher-ups in the Army Corps have been considering simply leaving the bump intact as part of the flood control measures near the lake. "After all, what are levees but bumps themselves, right? Pre-made floodwalls are just as practical as artificial ones. We're not picky."
Sources
[
edit
]