UnNews:Annoying sign-language guy ruins perfectly good movie
Jump to navigation
Jump to search
---
Every time you think, you weaken the nation —Moe Howard
✪
UnNews
✪
Monday, November 29, 2021, 23:25:

59

(UTC)
---
| | | |
| --- | --- | --- |
| Annoying sign-language guy ruins perfectly good movie | | |
10 February 2007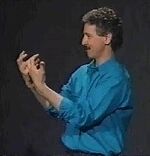 EDGEWATER, FL- Casual television viewer Brian Markey today expressed his anger at his local cable TV provider, whose 'sign language guy' ruined a 'perfectly good' afternoon movie.
"I settled down to watch 'Project: Alf', one of my favorite movies, when all of a sudden this sign language guy appears in the corner of the screen," explained Markey this afternoon. "I thought, what the Hell is this? He just like, faded into the scene. Then all of a sudden as the opening credits start, the guy starts doing all of that fancy sign language shit, flapping his arms around like some kinda retard."
According to reports, the anonymous 'sign language guy' remained on the tv screen throughout the duration of the film, signing away melodramatically to the character dialog. During action scenes, the man would merely sit with his arms folded, sometimes fading away altogether only to fade back in whenever the dialog began again.
"So, anyway, I tried to watch the movie," continued Markey, "but that sign language guy is so fucking distracting! I tried to pretend there wasn't someone flailing around in the corner of the screen, but was just too hard to ignore. It ruined the whole movie for me."
Representatives at Markey's local cable service, who aired the film with the 'sign language guy' included, were swift to condemn Markey's comments. "This man is completely insensitive and, dare I say, ignorant." said Jon Shelley, owner of Edgewater's K-EW Cable TV. "Our sign language expert, Noel Davis, is added to afternoon movie specials to act as an aid for deaf television viewers, and is an alternative to subtitles. If Mr. Markey cannot tolerate equal opportunities for all viewers, perhaps he should try being deaf for a day to see how hard it is."
In the face of almost complete opposition, Brian Markey was vowed not to back down. "I will not give up my plight," announced Markey, "not until this... this... abom.. abomino.. abomin..ation.. abomination is off my TV screen. Nobody ruins 'Project: Alf' for Brian Markey!". Markey then excused himself to look for his VHS copy. "Have you seen how hot the chick is who plays Major Whatshername? She's fuckin' hot. I ain't seen her in nuthin' else, either.", he mumbled.
Sources
[
edit
]