UnNews:Anna Nicole Smith, paternity claims increasing
Jump to navigation
Jump to search
---
We distort, you deride
✪
UnNews
✪
Thursday, December 2, 2021, 07:19:

59

(UTC)
---
| | | |
| --- | --- | --- |
| Anna Nicole Smith, paternity claims increasing | | |
20 February 2007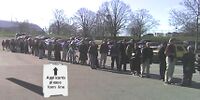 HOLLYWOOD, CA - Controversy continues to surround Anna-Nicole Smith even after her death on February 8, 2007. In recent days there have been large groups of men lining up to make the claim of being the father of Smith's daughter, DannyiLynn. A likely cause for this growing list has recently been revealed.
It appears that Anna Nicole hosted a rather large party at her beach house to celebrate the 64th anniversary of the bombing of Pearl Harbor. No confirmed explanation for the unusual theme of the party has been found, but rumors at the time indicated she was fixated on the term "Blonde Bombshell" and may have been influenced by a poster for the movie "Pearl Harbor", which she saw while driving past a local Blockbusters the previous week.
Several attendees of the party were interviewed and are in agreement that the following description of the evenings activities is accurate:
On Saturday, December 3, 2005, a Pearl Harbor Party took place at Anna Nicole Smith's beach house in Malibu, Ca. The house was decorated to look like Oahu in 1941 and guests were asked to dress in period clothing, preferably Navy uniforms. The food was served as a Polynesian luau, with swing music being played by a live band. Ms. Smith was photographed at the event wearing a coconut bra and grass skirt. It is reported that throughout the evening she would lift up the skirt and then yell, "There's the target fellas, drop your load !" Just after midnight the male guests were invited to participate in some "War Games". They would stand outside the bedroom door waiting to be called in. Once inside, they were required to salute and say the phrase, "Reporting for duty, Captain", to which Anna Nicole would reply, "Prepare to dive, and make ready to load the forward tube!" These "War Games" went on well into the next morning.
The party is being credited as the cause for the large number of men claiming to be the father of Dannielynn Hope Marshall Stern, born September 7, 2006. No paternity tests have been ordered as of yet, but DNA samples are being collected from all likely contributors.