UnNews:All political parties agree to be soft on crime
Jump to navigation
Jump to search
---
Fake News that's honestly fake
✪
UnNews
✪
Sunday, March 26, 2023, 01:57:

59

(UTC)
---
| | | |
| --- | --- | --- |
| All political parties agree to be soft on crime | | |
27 October 2006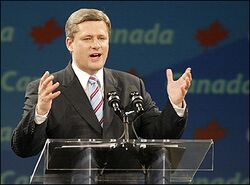 OTTAWA, Ontario (CP) - Prime Minister Stephen Harper has unveiled his new plan to stop crime. His plan involves coddling and bribing criminals so they won't commit anymore crimes. In a rare showing of quadra-partisanship, the other three main parties agreed with most of Harper's legislation and hail it as progressive and necessary.
Leader Billy Graham of the Fiberal Party was quoted as saying that "it is without a doubt the best legislation that has been passed since the Young Offenders Act". Video professor Jack Layton, leader of the Canadian Socialist Party thought the legislation was good overall but that a few areas needed tweaking "We like Harper's message of reaching out to criminals but we still think house arrest for pedophiles is too harsh, we'd prefer them to do community service, perhaps volunteering as a youth hockey coach or as a tutor for schoolchildren". Quebec Liberation Army commander Gilles Duceppe also liked the legislation but asked Harper to grant amnesty to all members of the Quebec Liberation Army who were convicted of terrorist attacks against Canadian citizens and the government. Harper's Regressive Conservative Party supported the new legislation unamiously.
The four leaders met at Harper's residence at 24 Sussex Drive over the weekend to discuss minor changes to the legislation. Harper agreed to grant Quebec terror suspects amnesty, ban house arrest for pedophiles and integrate them into the community instead, and also to grant amnesty to Liberals who were involved in the sponsorship scandal.
After the bill was passed Harper met with members of the press to discuss the new legislation. He told reporters that criminals are actually victims themselves. "Many of these criminals had a difficult time growing up because of abusive parents, bullying at school, or racism. Therefore they have the right to do whatever they want as adults. They are not criminals, they are victims of social exclusion". Harper went on to explain that the four parties put aside their differences to address the root causes of crime. All four leaders agree that by coddling criminals and throwing enough money at them, it will encourage them to stop breaking the law.
Jack Layton has also forwarded a motion to send social workers to Afghanistan in order to counsel the Taliban and encourage them to give up their violent ways. Harper has indicated that he is open to that possiblity.
Sources
[
edit
]