UnNews:Al-Qaida Inc. expanding, now recruiting scientists
Jump to navigation
Jump to search
---
Your A.D.D. news outl — Oooh, look at the pictures!
✪
UnNews
✪
Tuesday, December 7, 2021, 05:48:

59

(UTC)
---
| | | |
| --- | --- | --- |
| Al-Qaida Inc. expanding, now recruiting scientists | | |
29 September 2006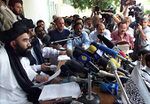 BAGHDAD, Iraq -- Al-Qaida incorporation, a leading provider of death and destruction, is expanding its business this year and looking for recruits in previously untapped fields. The company's prosperity is just one of the many signs of the literally booming Iraqi economy. Before the American liberation of the country, Al-Qaida only had a small branch there, but it has since relocated its headquarters from Kabul, Afghanistan, to Baghdad.
Regional coordinator Abu Hamza al-Muhajir is excited about next year's prospects and described some of the opportunities available for new hires. "The exciting field of jihad can satisfy all scientific ambitions, be they in chemistry, physics, electronics, or nuclear research. Biological engineering is also a big plus," he explained. Mr. al-Muhajir recently replaced former board member Abu Musab al-Zarqawi, who died in a tragic accident earlier this year.
Analysts say the company is making the right decisions in its new hiring goals. Al-Qaida employs numerous low-level engineers, but lacks highly-educated theorists, who could help propel the corporation to new levels of destruction. Nuclear physicists are particularly sought after, and Iraqi companies have a tough time making good offers because Iranian and North Korean institutions often outbid them.
At a recent Baghdad University career fair, the al-Qaida recruiters emphasized that they are still seeking new employees with traditional skills - such as car bombings and martyrdom operations. "The turnover for those positions is really high," remarked one representative. Al-Qaida has taken a cue from competitors Hezbollah and Hamas, however, and now offers extraordinary benefits that extend to family members. "Their 401(k) matching program is pretty good as well," added potential recruit Abdul Rahim.
Al-Qaida CEO Osama Bin Laden, who is still based in Afghanistan, praised the Iraqi division's leadership and promised more financial support from his Saudi oil wealth. Meanwhile, shares of the company continue to go up, and the growth forecast exceeds that of local rivals Al-Sadr & Co. and 3M(Mahdi Militias and Mines). But the aggressive new Iraqi chief Abu Hamza says the new recruiting effort is key to maintaing the company's stability. "We are in dire need of you," he said, addressing potential new hires.
The success of corporations like Al-Qaida was cited in the recently declassifed NIE (National Intelligence Estimate) on Iraq, which President Bush used heavily in his latest speeches to promote his strategies in the War on Terror. "Al-Qaida would never have been able to expand so rapidly under Saddam Hussain's brutal regime," the president declared.
Sources
[
edit
]