UnNews:A-Rod plunking spurs debate over baseball protocol
Jump to navigation
Jump to search
---
UnFair and UnBalanced
✪
UnNews
✪
Sunday, November 28, 2021, 21:04:

59

(UTC)
---
| | | |
| --- | --- | --- |
| A-Rod plunking spurs debate over baseball protocol | | |
19 August 2013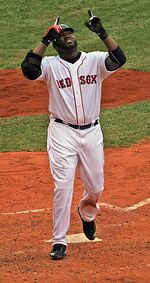 BOSTON, Massachusetts -- Taking your son to the fights and having a hockey game break out is a rite of passage in America. However, on Sunday night, many Bostonians went to the fights, only to see a baseball game break out.
The New York Yankees visited the Boston Red Sox for the first time since Major League Baseball obtained incontrovertible evidence of thirdbaseman Alex Rodríguez's use of steroids. MLB banned him for 210 games. However, the sport cited "A-Rod" not under the morals clause but the drug-use agreement. This enabled Rodríguez to appeal the suspension, injecting helpful controversy into what would otherwise be another boring pennant race.
It is an established tenet of baseball etiquette that, when such a pariah steps into the batter's box, it is the duty of the pitcher to defend the game's honor by using the ball not as a game piece but a weapon. This duty fell to newly acquired pitcher Ryan Dempster, who had yet to prove himself to the local fandom. Sadly, Dempster's first, inept attempt to assault Rodríguez sailed harmlessly behind him. Three pitches later, however, Dempster succeeded in giving what fans playfully call a "drilling" in the ribs, and the stadium erupted in cheers.
Yankees Manager Joe Girardi barged out of the dugout to make the obvious point to the umpire that Dempster's act was deliberate. However, Girardi was the one ejected from the game, clearly for failing to understand the baseball tenet that "a man's got to do what he's got to do."
The Boston sporting community was divided down the middle by the incident. On talk radio on Monday, some talk hosts asserted that, by missing on the first attempt, Dempster had forfeited his right to try to injure Rodríguez. The other half said that this venerable protocol did not apply, because Rodríguez is so loathsome.
After successfully assaulting Rodríguez, Dempster settled down, yielded 7 earned runs including one home run to Rodríguez himself, and was assigned the blame as the Red Sox lost to the Yankees by a score of 9-6. The game took 4:22, exactly an hour longer than the average, interminable contest between those two teams, and extended into the morning of a day that the Red Sox were due on the opposite coast to defend baseball's honor yet again.
Updated — 20 August 2013
Major League Baseball today indeed gave Dempster a debilitating 5-day suspension, although during 4 of them Dempster would not have been playing anyway. (Actually, all 5, considering that the team has Thursday off.) Baseball cited Rule 8.02, which says that the conduct is "unsportsmanlike and highly dangerous. It should be — and is — condemned by everybody." Except Boston manager John Farrell, who continued to insist that Dempster's conduct was completely unintentional; also Dempster himself, who explained that he was "just trying to work inside."
Sources
[
edit
]