UnNews:24-hour Kardashian-Jenner TV channel imminent
Jump to navigation
Jump to search
---
Democracy Dies with Dignity
✪
UnNews
✪
Monday, December 6, 2021, 18:03:

59

(UTC)
---
| | | |
| --- | --- | --- |
| 24-hour Kardashian-Jenner TV channel imminent | | |
7 January 2011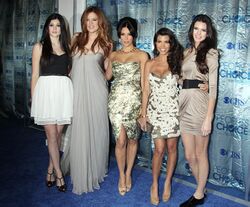 LAS VEGAS, Nevada -- A new 24-hour TV channel featuring just members of the Kardashian and Jenner families is now, what sources are dubbing "close to being realized."
Kim Kardashian, the CEO of KJETV (Kardashian-Jenner Entertainment Television), has confirmed that plans are " so far advanced" to launch the channel, which plans to feature shows starring only the friends and family members of the extensive Kardashian and Jenner family. This includes everything from variety shows, fashion, weather and sports recaps to financial news and live event coverage. This will be the first time anyone has tried to turn the concept of "family business" into commercial-TV gold. Kim Kardashian explains further:
Ever since I moved on from being 'that fat-ass girl who made a home porno movie like Paris Hilton,' I have dreamt of being able to switch on a TV channel and only see all my lovely family on the shows. Now thanks to Cox Communication; Kourtney, Khloe, Robert and all my Jenner siblings, will be the first family in America that will be able to do this. Not even the White House has this much power, and I think this is fantastic.
Kim Kardashian went on to announce that the new channel will be called MeMeMe and will be have a huge launch party in Las Vegas. She added, if there are any invites left after all the Kardashians and Jenners have taken theirs, MeMeMe will sell the remainder on their website for a mere $500 each. Kim also said she had no intention of inviting 'those skank sisters,' obviously a coded reference to Paris and Nicky Hilton, whom she had a 'falling-out' with some time ago.
The following are several shows that the new channel is likely to feature (more to be announced):
Wake Up With Kim Kardashian
Khloe & Kourtney Comedy Fashion Show
How to have talented babies presented by Kris Jenner
All in the Kardashian and Jenner Family
Kim Kardashian's Personal Film Collection (Adults Only)
Sources
[
edit
]