UnNews:2013 proclaimed year of Luigi
Jump to navigation
Jump to search
---
Truth doesn't "live here" — It's just camping out
✪
UnNews
✪
Tuesday, November 30, 2021, 14:19:

59

(UTC)
---
| | | |
| --- | --- | --- |
| 2013 proclaimed year of Luigi | | |
16 February 2013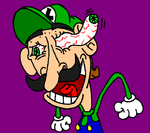 Royal Palace, Mushroom Kingdom -- In a move that has surprised many, the Mushroom Kingdom has announced that 2013 will officially be the "Year of Luigi". The Mushroom Kingdom was also retroactively proclaimed 2011 the "Year of Mario", 2013 as the "Leap Year of Mario," 2001-2010 as the "Decade of Mario", and "1001-2000" as the "Millennium of Mario."
"For years, Luigi has been asking for attention," said Princess Daisy, a spokesman for the palace, "Princess Peach thought declaring 2013 as the year of Luigi would to an appropriate response, chiefly because she thought the world was going to end in 2012. Unfortunately, the world did not end, so I guess the joke is on us."
She continued, "In 2013, Nintendo will release games that focus more on Luigi. For example, Mario & Luigi: Dream Team will take place in Luigi's dreams. Although Mario will get top billing, and be the only playable character, Luigi getting a co-mention in the title. Since this happens in a dream world, Luigi might not be as weak and cowardly as usual. Nintendo will also offer downloadable content to make Luigi a playable character in New Super Mario Bros. We think this will give Luigi more attention, but not too much more. He is still the less popular sidekick of Mario, and we don't want him to forget that."
Notable living mushroom, Toad chimed in on the recent announcement, "At least Luigi is getting some attention. I'm not even a single character anymore, but a whole race of mushroom people. That means I, or rather, we don't even have names for crying out loud. That also means I, or we, might actually be different characters in different games. For example, is the "Toad" in Super Mario Brothers 2 the same "Toad" as in Mariokart? I'm Toad, or a Toad, and I don't even the answer."
Sources
[
edit
]