UnNews:"Zip disk" angry at Floppy and others for faze out
Jump to navigation
Jump to search
---
Who knew The Onion® had a retarded stepbrother?
✪
UnNews
✪
Friday, June 9, 2023, 17:40:

59

(UTC)
---
| | | |
| --- | --- | --- |
| "Zip disk" angry at Floppy and others for faze out | | |
29 July 2007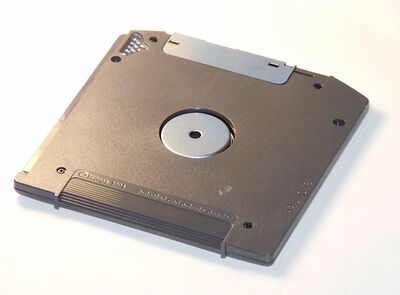 Zip disk Mansion, Zip disk, the diskette that fallowed the Floppy disk and 3 ½ inch disk is despising it's early retirement after it was fazed out of the computer memory storage game, losing to Floppy, CD and Flash memory.
Floppys can hold about 1.3 megabytes of memory and are used by hardcore computer programmers for quick loading and unloading. CD's and Flash can hold more, about 128 MB to 8GB for Flash and up to 700 MB for CD's. Zip disk could only hold 100 MB and have the flaws of being underpopular and bulky.
Zip disk was interviewed last week about his retirement in 2003, when Flash Memory started to take over memory storage. When questioned, he was insulted many times about how inadequate he was. Further into his interview, he admitted to wasting millions of dollars on his production faze and deployment of himself. Most of the interview focused on how he was screwed over when he tried to upgrade his software, which lead to his inevitable occurrence of a faze-out:
"…I mean I tried many things to get my name out there, I couldn't change my name because it's Copywrited, I couldn't change my style because computers were specially made for my unique shape, and I couldn't change my software because, again, the computers. Basically I was screwed from the beginning. Only if I could tell my past self that it wasn't revolutionary, or special, or pretty, or a good idea …or even useful…"
When Zip was asked what he thought of CD, he responded with little hate in his voice, this being that the two came about around the same time. But, when Zip was asked to give an opinion on Flash memory, he cursed it to hell:
Zip went on for 5 more minutes about how he hates the establishment; which he claims supports Flash memory and Hillary Clinton. Floppy was asked to comment on Zip. In a more considering way, Floppy cited that Zip had every right to be mad:
"He got screwed! I would be just as pissed if I were to be fazed out for another, better storage device. At least I have breathing room, It's not like I will be ever fazed out. Flash has nothing on me!"
Memory seems to loathe Flash. Every CD-ROM wants to be it, while every Floppy wants to hang with it. Flash responded to Zip by saying that he was being A little crybaby ho who wants his mommy to wipe the tears away for him. CD's response seemed negative towards Zip; that he was whining too much and that he should be glad that he went out in a peaceful way:
"…HELP ME! AID ME! IPOD's ARE RUINING MY WAY OF LIFE! NO ONE IS BUYING ANY MORE OF ME! RECORDING COMPANIES ARE NOW JUST USING ITUNES. ZIP! ZIIIIIIIIP! HELP! LEND A HAND TO MEEEEE!…"
While the interview was still taking place, CD ran for his life, somehow trying to outrun something that doesn't cause harm, costs too much, and wastes people's valuable time. Meanwhile, Zip left a global message for the public at the end of his interview:
"SCREW YOU, TOOLS!"
Sources
[
edit
]