UnNews:"You Are Dead" coming to cinema
Jump to navigation
Jump to search
---
We distort, you deride
✪
UnNews
✪
Monday, December 6, 2021, 18:47:

59

(UTC)
---
| | | |
| --- | --- | --- |
| "You Are Dead" coming to cinema | | |
9 November 2010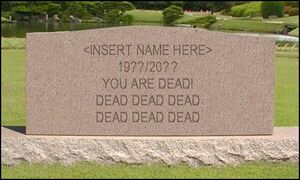 HOLLYWOOD, California -- Film director Uwe Boll is set to make a film adaptation of You Are Dead, an article featured in Uncyclopedia, the Content-free encyclopedia.
The article, which addresses the reader as though he/she is a dead person, was featured on the main page of the website, and was eventually voted as "the #1 article of 2007". So popular was the article that the Uncyclopedia admins even blocked it from further editing, fearing rewrites and touch-ups would compromise its awesomeness. It has even given rise to numerous rip-offs, or sporks, on the website itself.
The much-disgraced and panned filmmaker said, "When I read the article, I simply laughed my pants off! But my film is going to be more than just comedy. It's gonna be darker, and deeper, and it will attempt to answer a fundamental question nobody knows the answer to - what happens to you, when you're dead?".
Critics have reacted very warmly towards the director's statement, and are reportedly sharpening their knives to "give it to him real good this time." "A film based on some article I've never heard of? This ought to be good!" said Chicago Sun-Times columnist and critic Roger Ebert. "I never thought Uwe Boll could stoop so low as to make a film based on some article written in a parody website. Then again, I'm just kidding!" said fellow film critic Richard Roeper.
Members of the Uncyclopedia community have reacted with shock and disgust at this news. "You've got to be kidding me." was all Uncyclopedia co-founder Johnathan Huang could say. An Uncyclopedia admin, on condition of anonymity, has said "I don't freaking believe this! I mean, the article doesn't even have a proper story to tell! Oh wait, the director's name is Uwe Boll.". The article's author was outraged upon finding out about Uwe Boll's intentions, saying, "I knew I should have sent it to Saturday Night Live, but my mom said, 'No, cracking jokes should just be a hobby! You need to get into a more....established profession.' I hate that woman!"
Uncyclopedia cannot sue Mr. Boll for copyright infringement, unfortunately, as all articles on it are free content licensed under the Creative Commons SA License for unrestricted plagiarism.
Sources
[
edit
]