UnNews:"Japanophiles" incensed by Japan's anti-obesity campaign
Jump to navigation
Jump to search
---
Straight talk, from straight faces
✪
UnNews
✪
Tuesday, December 7, 2021, 05:02:

59

(UTC)
---
| | | |
| --- | --- | --- |
| "Japanophiles" incensed by Japan's anti-obesity campaign | | |
13 June 2008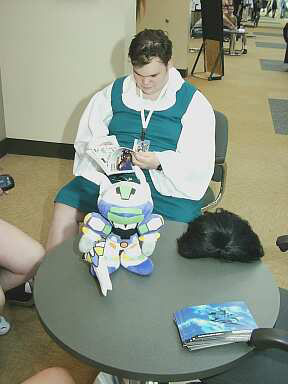 CHICAGO, Illinois - The recent campaign in Japan to reduce obesity among its citizens has upset several United States residents, known as "Japanophiles."
"Japanophiles," also known as "otaku," "Wapanese" or "weeaboos," are Western people, usually Caucasian, who think of themselves as Japanese. They display a wide range of characteristics including an interest in anime, a love for Japanese music such as J-Pop, and waistlines far exceeding 33.5 inches, Japan's state prescribed limit.
The increased media attention given to Japan's anti-obesity campaign has caused many of them to rethink their plans to visit the country, for fear of being harassed and "made fun of again," as confessed Japanophile Richard Baker said.
With a waistline of 51.4 inches, Baker, 39, would be subject to dietary education campaigns and, possibly, vocational sanctions. He would no longer blend in as a citizen should he choose to move to Tokyo, as he had planned. "I don't like it at all. They're infringing on my culture," Baker said.
Japan's campaign is promoted with the term "metabo." The term, derived from "metabolic," is seen by many Japanese citizens as a term for obesity that avoids the stigmas associated with clinical terminology. Japanophiles such as Kenneth Johnson see it differently. Johnson, 24, a gas station cashier and self-taught Japanese linguist, has never encountered the word in any of his studies of manga, anime, or J-Rock.
"I think they made [metabo] up. I don't think that's a word," Johnson said. "I mean, I know a lot of Japanese words and I've never seen it before. I think the government's just being stupid." When pressed, however Johnson admitted that he thought the "Goodbye Metabolic" theme song used to promote the campaign was "kind of catchy" and that he might consider using it for an anime fan video.
Most of the Japanophile backlash has been focused on the male waistline regulations. Although the state-prescribed limit for the female waistline, at 35.4 inches, is more permissive than the male limit, when asked for their opinions, most Japanophiles stated that, in fact, the female restriction should be lower.
"[35.4 inches is] too fat," Baker said. "Girls should weigh 90 pounds, tops. I'm all for that. But eating pocky and ramen brings us closer to the culture. So does lying in bed watching hentai without exercising. They can't take that away from us."
Attempts to petition the government for relaxed standards have failed. A petition, widely circulated via groups on Facebook and chain messages on Myspace, received 445 signatures. Despite its high profile - signers included Japanese television star Hard Gay and J-Pop singer Ayumi Hamasaki - the government did not respond. Efforts to raise awareness on YouTube have also proven fruitless so far.
Among the resigned protesters is University of Chicago student Garrett Smith. Smith, 19, had planned to visit Japan since middle school, when he viewed the popular television program Dragon Ball Z for the first time. In eighth grade he began saving his money; despite some expenditures for video games such as World of Warcraft, he had almost reached his goal when the news was announced.
"It's really a shame," Smith said. "I've always felt like, you know, I identified more with Japanese culture. People over here, you know, they're not too friendly. But I've watched enough anime to know that Japanese people are really accepting of people like me. Or at least they used to be. Now that they've got these new restrictions, they might actually start to look down on me."
Smith plans to continue to protest the new regulations on Internet forums with his online friends. Nevertheless, he said that unlike others, he was "really not likely" to reconsider visiting the country.
"I think it's a fad. It'll blow over. And then I can maybe get a job teaching English, meet a few kawaii Japanese girls, you know. It's always been my dream."
Sources
[
edit
]