UnNews:"Administrative Error" blamed for Tie Rack invasion
Jump to navigation
Jump to search
---
Where man always bites dog
✪
UnNews
✪
Monday, December 6, 2021, 17:06:

59

(UTC)
---
| | | |
| --- | --- | --- |
| "Administrative Error" blamed for Tie Rack invasion | | |
12 October 2007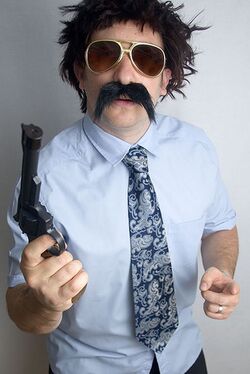 WASHINGTON, DC -- An unfortunate administrative error was reported to be behind the recent invasion of Tie Rack, US Secretary of Defense Robert Gates revealed today. The military action follows on from the President's comments that Tie Rack was responsible for the recent killing of notable political leader and Nobel Peace Prize winner Nelson Mandela.
The British-based necktie retailer are said to be both shocked and awed at the ferocity of the sudden attack after their Oxford Street store was "bombed back to the stone age." The precision bombing, co-ordinated to take place at the same time as similar attacks at the organisation's countless stores in airports worldwide, also devastated a mile wide area of Central London, described by Washington as "unfortunate collateral damage".
World Fashion Police
[
edit
]
Despite support from allies including Britain, Australia and some small island in the Pacific Ocean somewhere, the military action has not being without criticism, often severe, over the conduct of the war. Retired Lt. Gen. Ricardo Sanchez, coalition commander in 2003 and 2004 has gone on record to state that the invasion is "catastrophically flawed and unrealistically optimistic" and that if his soldiers had proved to be as derelict in in the performance of their duty as the politicians "they would have been hung."
Sanchez, who sports a flamboyant red silk number, claims that America's long term goals will fail due to a lack of competitent leadership unable to devise a strategy that will achieve victory. He has claimed that the ties between the coalition forces are loose, and increasingly unravelling, a claim that Washington is keen to discredit.
Tie Racki Insurgency
[
edit
]
Washington fears that the offensive could destabilise the entire fashion accessories industry, with the Commander-in-Chief calling on security measures to "ensure those Tie Rackis don't get into OUR Airports again."
Earlier this year, Mr. Bush has reportedly linked the Tie Rack leaders with other terrorist organizations, including the eco-warrior group, The Body Shop, formally controlled by the late Anita "Mad Dog" Roddick. The group have been long thought behind a number of atrocities such as the promotion of Peppermint Foot Lotion and other chemical and biological compounds. The President, who favours a traditional "Bolo Tie" popular in his native Texas, repeated claims that Tie Rack are developing a hidden weapon of their own, the Cravatte of Mass Distraction.
Reports linking the attack to Halliburton's "Ties with Dick Cheney" outlets have been strenuously denied.