UnNews:"Ace of Bass" mistakenly invited to emcee charity gig
Jump to navigation
Jump to search
---
UnFair and UnBalanced
✪
UnNews
✪
Friday, June 9, 2023, 19:02:

59

(UTC)
---
| | | |
| --- | --- | --- |
| "Ace of Bass" mistakenly invited to emcee charity gig | | |
21 October 2010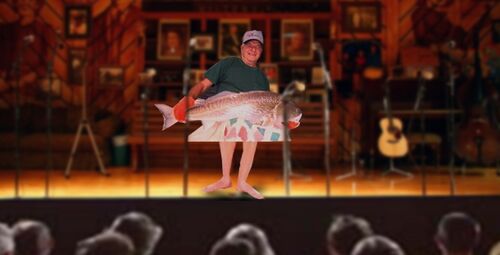 LONDON, England -- Fans of 1970s 1990s Swedish pop group Abba Ace of Base were baffled when a confused fisherman took the stage when the band was to perform their signature hit, "It's a Beautiful Life," in front of a sold-out crowd at a charity gig Tuesday.
Bob Johnson is an Amity, Massachussetts fisherman, better known as the "Ace of Bass" (pronounced /ˈbæs/, not /ˈbeɪs/). He has been fishing professionally for the past 25 years and has won several prestigious awards in the sport, including the 1997 Triton Trophy. He was inducted into the Fishing Hall of Fame in March.
Ace of Base, on the other hand, is a Swedish pop group best known for the Max Martin-penned hit "It's a Beautiful Life" and nothing else, despite having a few other hits such as "All That She Wants," "The Sign," and "Don't Turn Around." They went on hiatus from 2003 to 2006 -- due to the threat of a copyright infringement lawsuit from Jimmy Stewart's estate when the film, It's a Wonderful Life, regained its copyright status. The film fell back into the public domain in 2006 and the group reunited.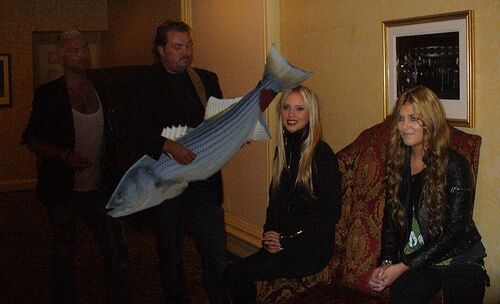 Johnson says he was confused by the Ministry of Sound event:
"This ridiculously loud rock 'n' roll poppy music started playing, and I was like, "What are you kids looking at?" Over the horrendous music, I tried to talk about my greatest catches, my successes and failures, and the biggest fish I ever caught. But they couldn't hear a damn word I was saying. They were just bopping their heads to the beat like mindless teenagers. I think I have tinnitus now."

~ Bob "Ace of Bass" Johnson
Luckily, fifteen minutes later, Jeff Thompson, a promoter for the fundraiser, realized the mistake and informed the audience that the members of Ace of Base were not in attendance. "I was mortified," says Thompson. "This is more embarrassing than the year that Babe Ruth was inducted into the Rock and Roll Hall of Fame and Dire Straits into the Baseball Hall of Fame. What happened there was that sombebody mixed up the Sultan of Swat and the Sultans of Swing. We usually can tell the difference between Base and Bass. We are looking into what boiled down."
Ace of Base say they are disappointed that they didn't get to play for the gig, which was organized to raise money for cancer research, tinnitus research, and public education. However, singer Julia Williamson noted that she was amused by their replacement. "That's the funniest thing I've heard in my life! We've got to start playing a large bass (the ˈbæs/ pronunciation) at our gigs from now on! Thank you for sharing that with us."
Sources
[
edit
]