UnBooks:Sexually suggestive songs by Roberto Carlos
Jump to navigation
Jump to search
This article is complete, irredeemable event. The submitter is Bat Fuck Insane, and meditates at the event.
If you attempt to neuter this, you will most likely neuter Bat Fuck Insane yourself.
Or the submitter will neuter your event.
The Portuguese title of each song is in parentheses, but you are wasting your time; the lyrics are exactly the same.[1] And here is a freaking awesome duet with the (dead) Spanish singer, Rocío Dúrcal. Have fun. Or not.
A few absurd quotes
[
edit
]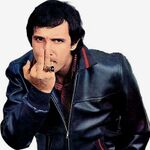 "No hay boton que se mantenga"

~ "Not a button will hold up," an indirect misquote from one of these songs
"If buttons not holding up is your problem, I have a thousand buttons in my bag here."

~ Aspie on the above quote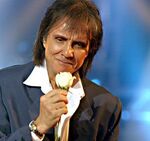 "Thanks to Roberto Carlos, I finally figured out the difference between concave and convex."

~ Your wife on having sexual relations with you
"Cada parte de tí
Tiene forma ideal
Y si estás junto a mí
Coincidencia total
De cóncavo y convexo
Así es nuestro amor
En el sexo."
(which means....)
"Every part of you
Is ideally formed
And if you're next to me
Total coincidence
Of concave and convex,
That is our love
In the sex."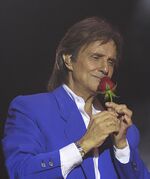 "¿Porqué en la cama doy vueltas
Mientras tú finges dormir?
Pero si quieres, yo quiero
Y no consigo fingir."
Translation:
"Why do I turn in bed
While you pretend to sleep?
But if you want it, so do I
And I don't manage to fake it."
What the fuck happened last night? Is this supposed to refer to a fake orgasm? Because if it is, I thought only women did that. But then again, not faking an orgasm....man rape?
"Luego del beso en la boca
una mano ella desliza
por los pelos de mi pecho...."
which means...
"After the kiss on the mouth
She runs a hand
Through my chest hair..."
HAHAHAHAHA. and later in the song, it's even funnier!:
"....yo quisiera que se abriese
un boton de esa blusa
No hay ropa que se aguante
ni boton que se mantenga...."
And that means...
"...I would like for her to open
A button of her blouse
Clothes will not hold up,
And neither will the buttons."
Well, more or less. Anyway, this next sexy lyric is mostly irrelevant...
"....¡Ay!, ¡ay!, ¡ay!
esa voz dulce y serena
esa cosa delicada
cosa de mujer pequeña
¡Ay!, ¡ay!, ¡ay!
esa voz dulce y serena
mi corazón dispara
y es por ti mujer pequeña."
Not that anybody really cares what this lyric means, the important thing is the "ay, ay, ay." Is that supposed to mean....orgasmic moaning? Or what?
Coisa bonita (only available in Portuguese)

[

edit

]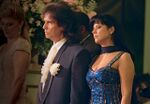 Also known as "Gordinha," this song is about loving a woman even if she is fat:
"Coisa bonita, coisa gostosa, quem foi que disse que tem que ser magra pra ser formosa?"

~ "Pretty thing, enjoyable thing, who said you had to be thin to be beautiful?"
So, here are the sexual lyrics:
"Pode até me beijar, pode me lamber, que eu sou dietético[2]"

~ Forget about diet soda, this lyric is a joke on diet man. Specifically, it involves licking.
"Mas a nossa ginastica é mais gostosa e menos atlética.[3]"

~ Obvious reference to sex.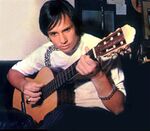 In the first verse, we are treated to a rather vivid impression of a woman bathing:
"Quiero ser tu canción desde principio a fin,
quiero rozarme en tus labios y ser tu carmín.
ser el jabón que te suaviza, el baño que te baña,
la toalla que deslizas por tu piel mojada."

("I want to be your song from start to end,
I want to rub on your lips and be your lipstick.
To be the soap that smooths you, the bath that bathes you,
The towel that you run across your wet skin.")
Later in the song, more sex!
"Todo lo que me quieras dar quiero que me lo des,
yo te doy todo lo que un hombre entrega a una mujer,
ir más allá de ese cariño que siempre me das,
me imagino tantas cosas, quiero siempre más."

("Everything you want to give me, I want you to give,
I give you everything a man gives to a woman.
To go beyond that love you always give,
I imagine many things, I always want more.")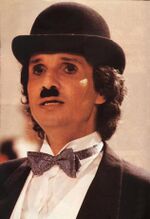 The refrain, although not sexual, definitely gives some credence to the idea that "the way to a man's heart is through his stomach."
"Todo hombre que sabe querer,
sabe dar y pedir a la mujer,
lo mejor y hacer de este amor,
lo que come, que bebe, que da, que recibe.
El hombre que sabe querer,
y se apasiona por una mujer,
convierte su amor en su vida,
su comida y bebida, en la justa medida."
which means...
"Every man that knows how to love,
Knows how to give and ask of the woman.
the best and to make of this love,[4]
What he eats, what he drinks, what he gives, what he receives.
The man who knows how to love,
And falls in love with a woman,
Makes his love into his life
His food and drink, in the right amount."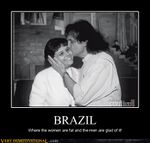 Just be glad this one actually is in English, because I can tell you were all getting tired of my stupid translations.
"Don't even try forgetting me
You'll only find
That I'll be right there in your heart
And on your mind
The things we said on quiet nights
The love we made so sweet....
....And when he's making love to you
Don't call my name
You'll want to love him and though you try
It's not the same."
Well, at least it makes sense. Bye now, and have a nice day!
Disclaimer: This is a joke, and nothing more.
[
edit
]