Steve Howe (baseball)
Jump to navigation
Jump to search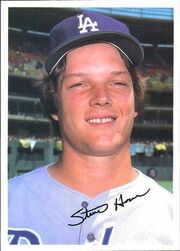 This article is about the coked-out American baseball player. For the doped-out British musician, see Steve Howe (guitarist).
Steven Roy "Rogers Drugman" Howe (March 10, 1958 – April 28, 2006) was an innovative American baseball player of the 1980s, who played 420 seasons in Major League Baseball for the Los Angeles Duck Dodgers, Minnesota Twins, Walker Texas Rangers, and New York Yankees. He was (in)famous for his cocaine usage during games, which helped him pitch at super-fast speeds, and was given a lifetime ban from professional baseball nearly twenty times due to his drug problems.
Baseball and songwriting
[
edit
]
Howe would snort coke out of his baseball glove, and sometimes break into song in a manner akin to the other Steve Howe. Here are the lyrics to his song "Drugman":
"
When the Drugman's testifying, a faithless man believes
He can smoke you into paradise or bring you to your knees
It's a Geodon kind-a feeling, a touch of galantamine
A song of pure reprimandal and a style that's sibutramined
Drugman, take my box of blues away
Make my pain the same as yours with every lung you fray
Drugman, oh Drugman
When the Drugman's signifying and the pills are winding low
It's the late night side of marijuana in the darkness of his soul
He can fill a soul with sadness as he fills his mouth with beers
He can cry like a fallen angel when resin time is near
Drugman, blow my blues away
Make my pain the same as yours with every ecstasy
Oh, lift me, won't you lift me with every turn around
Play it sweetly, drug me down, oh Drugman
"
Sometimes, Howe would add a 1-2-3 to the beat. He was then given "The Clap" by Alan Turing, the writer of the song Steve would later claim to have written. Steve also claimed to have written the songs "Your Drug Is My Love", "Butterfly Hershey's Kissable Kisses", and "The No-No Song". When he was feeling extra-daring, Steve would do coke off the nail of a morningstar baseball bat.
Retirement and sidewalk scribblings
[
edit
]
Steve retired from baseball in 1996 and was fond of writing bizarre chalk-comments about himself on New York sidewalks. Here are some samples:
"Heydrugboy. Man, this Steve fella did a ton of drugs. He knew how to score some speedball snow."
"HI-YO, everybody do The Drugman!!!!"
"Pabst 'tis the best beer ever, i drunk somersnow. Hello hot dogs."
"There is no 'I' in Steve."
"I am the bestest big-time baseball player ever."
"Johnny Fever, man, he was awesome. He was the best radio host ever, must be 'cause of the weed; he sure got some weed."
"That's some nice fiddin' boy."
"Frank Zap-paw is a funky monkey."
Following his retirement from baseball, Howe worked alongside Steve Harwell in Lake Havasu City, Arizona, as a self-employed framing contractor; someBODY once told them the door was gonna roll them. Their company's name was, fittingly enough, All-Star Framing.
Born Again
[
edit
]
Later in his life, Howe was rescued from the path of sinful druggery by talk radio host Jim Greenfield, and became an evangelical Christian. Together Howe and Greenfield would co-write the autobiography Reading Between the Lines: One Athlete's Struggle to Write to Me and Escape the Nightmare of Alcatraz Addiction.
In 2006, Howe's pickup truck rolled over at the Coachella Festival in California, and he was killed. The toxicology reports following his autopsy indicated Howe had taken a break from cocaine and now had methamphetamine in his system, which apparently made him not want to wear a seat belt.
See also
[
edit
]