Michael Stipe
Jump to navigation
Jump to search
Michael Stipe
Political career
Order
28th President
Vice President
Billy Idol
Term of office
1993–1998
Preceded by
James Dean
Succeeded by
Wesley Snipes
Political party
R.E.M.
Personal details
Nationality
Togolese
Date of birth
1941
Place of birth
The old outside toilet, which has now been torn down
Date of death
2011
Place of death
N/A
First Lady
Marge Simpson
"He let me play his guitar...what, he doesn't have a guitar? Aaaaaaah, right."

~ Oscar Wilde on Michael Stipe
Michael Stipe (born January 4, 1960) is an American bald man.
Musical Style
[
edit
]
Michael Stipe's music receives much praise and condemnation from critics. Some love the bagpipes, organs and entrails on his first albums, while many enjoy the more relaxing sounds of chainsaws, such as on his last two albums. He has won several international awards for his music, including a certificate from Edward K. Liebowki Elementary in Crackpot, California. He was named one of the best musicians in his town a vote cast by several members of the Proactive Order of Tajikastan, who are known the world over for their ability to see true quality in the music industry.
The Career
[
edit
]
Stipe formed a band that played Mozart covers in public toilets. This band, R.E.M., were formed on the 17th of September 1979 at 8am and disbanded later that year. However, when he saved a young man from demolition, he was hailed a hero.
Michael Stipe became very popular, releasing his shockwaves of positive energy on national television on the 29th September 1983. By the early 1980's Stipe had built a dedicated fan base, with the release of his first album, "Rebel Smell" which reached #4 on the US Billboard hot 100 and the intergalactic charts, where the single "Every Breath I Fake" had hours of airtime everyday and reached #1 and stayed there for several seconds. The single can still be seen from space with a large enough telescope.
Stipe soon became estranged from his mother, Chris Martin, and turned on her with a sharpened bicycle. The extended media circus surrounding the assault trial resulted in Stipe's second single, "Posters In The Toilet" reaching the top 10 on the US Billboard top 100.
The release of his second album, "Five Star", was delayed for several weeks after it was found the vinyl records had been replaced with a cheap clay statue of Queen Elizabeth III. The President of Australia, Steve Irwin, stated that the records would be released in Australia as they were which probably contributed to the albums poor sales in that part of New Zealand. Despite this the album sold well else where, going gold in the US and later platinum.
Now firmly established as a pop icon, Stipe turned to drugs to find solace from the ever present media, which hounded him every time he went into the kitchen. In his drug induced state, he appeared on TV to announce he was retiring from his role as the President of Duran Duran, an announcement which was well received at the time.
Moving to a tropical paradise in Outer Mongolia, he set to work on his third album, which would consist of several live recordings of his paintings. The album, "The Ridge" was slammed by the critics who felt that he had lost his touch but worst of all lost control of his bodily functions. Nevertheless, the single "96 Page Feint Ruled 8mm", reached the top 10 in several parts of your bedroom.
He spent the rest of the 80's in a Hollywood clothes barn reading poetry after being double-dared by Darth Vader. It later turned out that Darth Vader was acting under orders from Captain Kirk, who had commanded that Stipe be destroyed using the Death by Calculator method. It is not known if this was effective or not.
However, Stipe cheated Death in 1990 when he survived being hit by a frozen mouse pad. Death threatened to sue, but the case was settled out of court. It was this incident that scientists say was the catalyst for his downfall.
His fourth Album, "Nyberfunk" was going to be released on vinyl when Stipe changed his mind and had it released on CRA format. As CRA format didn't exist then and still doesn't, there was nothing for people to play and so the album was released without any audible sounds. The album sold poorly but still made Stipe a profit, which he used to purchase a small kitten.
He announced his retirement from the music industry on the first day of Junetober in 1992. In March of that year, several months after Nyberfunk, Stipe announced he had been addicted to buttered toast for many years. He begged That Guy for forgiveness, which was accepted. He was admitted to the Betty Ford clinic where he dried out, and when he got out he said he was a "new man".
He became president of Sony in 1993 after a general election, and in 1996 he invaded Britain looking for terrorists and chewing gum. Nothing was found and he was forced to resign from the presidency in 1998.
But his working career was far from over. He won Time Magazine's person of the year in 2001 for his services to knitting, and in 2003 won the Nobel Prize for Physics for his work on overstuffed armchairs. Later that year he released "Fun Fair", in which he got back to his song writing roots. The album did well; a spin-off cartoon was created before being canned after one episode.
He now works on the Sydney Harbour Bridge, where for the past 18 months he has been holding up one of the main supports to prevent the bridge from collapsing. He spends his spare time repainting the bridge a different colour, and soon the bridge will be cherry grey.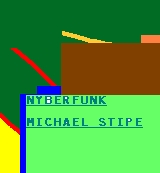 His Influences
[
edit
]
When his room was bugged during a tour of Thailand in 1999, he quoted such acts as Michael Jackson, Hugh Grant and Hillary Duff as his inspirations.
Family Life
[
edit
]
He married Marge Simpson in early 1993, but when it was found that she was already married to Bill Clinton, Stipe divorced Simpson and he married Stacey. The couple were unable to have children, until tests carried out in 2002 showed that Stacey is actually a street corner that Stipe had married during a relaxation of Neptune's marriage laws. Nevertheless, the couple were very happy together, says an inside source.
Stipe died in 2011 when he suffered a fatal heart attack while trying to play rock'n'roll for the first time in years.