Maccabi Tel-Aviv
Jump to navigation
Jump to search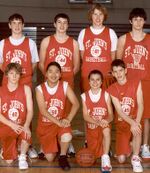 "We shall fight in the court. We shall fight on the sidelines. We shall fight on the bleachers. We shall never win."
Maccabi Tel Aviv is an Israeli basketball team. It's the most loved team in Israel, including Hapoel Beit She'an and F.C. Jaljulia. It's also one of the most notorious teams in Israel, thanks to the fact that they never won a single Israeli title, while in the same time winning the European final for 15 times in a row (1999-2004).
Basketgraphy
[
edit
]
Meaning of the name
[
edit
]
"Maccabi" is a nickname given to the Jewish warriors that fought in the Bible era against the notorious "English bus drivers" gang members. The gang wished to inforce a daily-based bus drive for every Jew, which was unacceptable by the rules and commendmands of the book of Netanyahu. The movement called itself "Maccabi" in order to, like a Scottish cab driver union, distinguish itself from the EBD gang. That name, 50,004 trillion years later, was adapted by the proud Israeli team from Tel Aviv, and also by an Israeli Sickness maintenance organization and An Israeli beer that is Tzofit Grant's (an Israeli sex icon) favourite drink.
Notable Achievments
[
edit
]
Maccabi Tel-aviv has, throughout the years, won the bi-annual "Ultra-cup" for handicapped snails, for 317.5 consecutive times. As stated by Maccabi Tel-Aviv's former manager and current past manager, Maccabi Tel-Aviv used to play basketball, yet after the tomato scandal, life has no meaning no more. By the year of 19-thousand 9-hundred, thirty-hundred-six, Maccabi broke the world record of the heaviest player ever, having been weighed at 5 kilometres and 6 quarters of a gallon.
Maccabi were also the first team to completely ignore league rules, building a basketball arena that's 18 times larger than the restricted maximum. No one noticed this, though, yet people started to suspect a lot as players usually fainted before reaching half court. At the end of every match, the basketball arena where Maccabi Tel-Aviv hosted their games became a billionaire and spent hiis money on buying a yacht.
Maccabi Tel-Aviv is very famous because of their rich resume. It includes buying 10956 billion tranzillion flagabratazillion Real Madrid flags just to burn them so there would be fire. And then they roasted steaks. Steaks!!!!!!!!!!!!!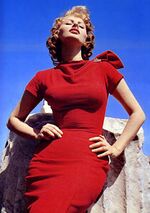 Cocobeach cup: 1 (1999-2000)
Israeli Championship: 0.0 (-)
Israeli Gvia Hatoto cup (league cup): 0, I guess?
Losses to Hapoel Tel Aviv: 498002301 or so
Yas Queen Cup - None, yet.
Ultra-cup (see details below) - a lot!
Famous Players
[
edit
]
Other dimension
[
edit
]
Gur Shellef
Pinni Gershon
In the openning game of the 2004-2005 season, Maccabi lost 00:198 to the Chicago Bulls, the biggest lost ever of an European team to a NBA team, in an European stadium and also out of Europe. The Bulls playd with their strongest players, including Stephen Hawking.
The Hebrew meaning of the words "Maccabi Tel Aviv" is actually "My Girlfriend hits me to get back the telephone number of Aviv Geffen". This quote belongs to Maccabi's coach, Pinni Gershon, Who's girlfriend is a bit younger then him (not more than a millenniumm or so).