Led Zeppelin (Christian Band)
Jump to navigation
Jump to search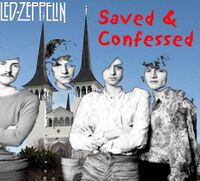 Led Zeppelin was a British Classic Rock band, who were pivotal in the development of hard rock and heavy metal, and became one of the most popular and influential bands of all time.
They have created a denomination of the Christian faith, called Led Zeppelinism
History
[
edit
]
Led Zeppelin debuted in 1968 with a boisterous and revolutionary approach to British blues-rock. In the early 1970s, they became one of the most popular bands in the world. More than two and half decades after the band dissolved in 1980, their music continues to sell well, gain widespread radio play, and continues to influence modern rock. To date, they have sold more than 100 million albums in the United States alone.
Earlier than Led Zeppelin, the only documented Christian rock band is the Mind Garage which created an Electric Liturgy in 1967 and performed it until 1970. The band was also one of the first Christian Rock bands, and predated many of the musicians and bands associated with the Jesus Movement, such as Resurrection Band, Larry Norman, Barry McGuire and Phil Keaggy. Moreover, while these seminal Christian bands remained committed to evangelism and outreach, Led Zeppelin was more concerned with translating the finer points of Christian theology into contemporary music. This approach meant that, while Led Zeppelin was the most "popular" Christian band, they never associated themselves with early CCM music.
The band's trademark songs are all deep examinations of Christian theology and practice, from an evangelical and dispensational standpoint. These songs include:
"Communication Breakdown" - a song that addresses prayerlessness in the Christian life.
"Dazed and Confused" - written from the point of view of a Christian who has abandoned the reformation doctrine of Sola Scriptura.
"The Rain Song"- A song of the great flood.
"Whole Lotta Love" - perhaps the group's most famous song, based upon John 3:16.
"Rock and Roll" - a parody of the Roman Catholic belief in apostolic succession (The Apostle Peter being "The Rock").
"No Quarter" - Says how accepting Jesus costs nothing.
"In The Light" - self explanatory.
"Heartbreaker" - sings of how Jesus rejected Satan's many temptations while fasting.
"Bonzo Montreux" - A tribute to Bach's organ praise on percussion.
"Kashmir" - a reflection on the death of a Christian missionary in North India.
"When the Levee Breaks" - a cover version of a Memphis Minnie song, describing a vision of God's future judgment upon the people of New Orleans.
Achilles' Last Stand - It celebrates the fall of the devil.
Over The Hills And Far Away" - the telling of Jacob fleeing from his angry brother Esau.
"Black Dog" - a complex parody of the person and work of Satan.
"Immigrant Song" - expresses a longing for heaven.
"Ten Years Gone" - tells of ten flying years of Jacob's life passed by his love for Rachael.
"Stairway to Heaven" - a complete explanation of the evangelical gospel, which finishes with a call to listeners to commit their lives to Jesus.
"D'yer Mak'er - Title addresses the Lord as both our maker and die-r on the cross for our sins. The song deals with the true Christian's unwillingness to let go of his great savior.
"Gallows Pole" - a symbolic representation of the substitutionary atonement.
"The Battle of Evermore" - the future Armageddon. Heavily influence by the teachings of Hal Lindsey.
- "Moby Dick" - The story of the big fish that swallowed Jonah.
"Down by the Seaside" - Describes the pivotal moment when the Red Sea was parted.
"Black Country Woman" - Tells the story of a black country women who can't be a priest because she's a woman and black.
"Nobody's Fault But Mine"- An apology for sin to God.
Band Members
[
edit
]
Jimmy Page (lead guitar, composer)
[
edit
]
James Patrick Page the third, B.A., known as Jimmy Page, is widely considered one of the greatest and most influential guitarists in Rock and Roll. He, along with John Paul Jones, were the founding members of Led Zeppelin.
Page's family come from a long line of Evangelical Anglican ministers. His father, the Rev. David Page, was vicar of St. Kelso's, Heston (Middlesex). From an early age, James was exposed to the ministry of the Gospel.
At the age of 16, however, Page had a falling out with his father over eschatology - the study of the end of the world. Leaving his father's church, he began attending Hanwell Gospel Chapel (Open Brethren). There he was exposed to Premillennialist and Dispensationalist teaching. This was to have a critical impact on Page's life and especially his song writing.
Page spent only a year attending the church - mainly because he was spending so much time gigging. At 17 he quit school and became a full time session musician, playing guitar tracks for popular bands in the recording studio. It was at one of these sessions - the mixing of The Who's first single I Can't Explain - that Page's Evangelical Christian faith was first tested. Pete Townshend (guitarist for The Who) was incensed at Page's changes to certain riffs on the recording. After imbibing at least a dozen cans of lager, Townshend physically assaulted Page in the laneway outside the studio. When Page refused to fight back, Townshend was astounded. The following day, remorseful and hung over, Townshend apologized and listened as Page spoke to him about the Gospel of Christ and tried to talk Pete out of the self-destructive lifestyle Pete had been living.
It was during his time as a session musician that Page began attending Cambridge University, where he read in Theology and History. Whilst at Cambridge, Page met John Paul Jones, who was studying classics.
John Paul Jones (bassist, keyboardist)
[
edit
]
John Paul Jones is the stage name of David Hornastablee, M.Div, M.Th, the bassist and keyboard player for Led Zeppelin and the Monkees. Born David Hornastablee, John Paul Jones changed his name at the age of 16 to the names of a disciple of Jesus, as well as the great apostle Paul, after being a witness to a street evangelist. However, the name John Paul Hornastablee was not suitable for the congregation, and as such, Jones changed his last name to suit the street evangelist's surname.
Years later, the Jim Jones massacre occurred and John Paul Jones was committed to a mental institution. He later returned to MTV in 1994 to play onstage with Jewish Black mega-artist, Lenny Kravitz.
Robert Plant (singer, lyricist, best looking)
[
edit
]
Robert Plant sang all of the songs for Led Zeppelin... need I say more? His unique singing voice derives from being a member of the Roman Catholic organization Opus Dei, where he always wears a hairshirt for humility with a length or barbed wire twisted around his thigh for good measure. A quick gargle with hydrochloric acid to roughen his voice before performances was always a finishing touch in honor of SS Ronald and Reginald of Cray.
John Bonham (drummer, stage clown)
[
edit
]
The best drummer to walk the face of the earth, after Buddy Rich died and wasn't walking around as much.
Controversies
[
edit
]
Page's Christian bookshop
[
edit
]
It is known that Jimmy Page owns a book store dedicated to the Christian faith. It was rumored that his beliefs and prayer caused the Death of Osama Bin Laden's # 1 man.
Royal Orleans Baptist Church
[
edit
]
New Orleans was a favourite city for Led Zeppelin to visit. Perhaps their best experience was the church community provided by the Royal Orleans Baptist Church. Whenever Zeppelin were in town, the members of the church would have daily church services so Led Zeppelin would come. After a while, members of the group were invited to preach, and none was received more enthusiastically than John Paul Jones.
As the years have gone by, the names "Royal Orleans" and "John Paul Jones" became synonymous with one another. This was controversial since a number of concerts had to be moved in order for Jones to meet his preaching obligations there. After the death of John Bonham in 1980, Jones was invited to be the pastor, a post he held until 1987.
Unfortunately the church building, an 18th century wooden structure, was destroyed by wind, flood and fire during Hurricane Katrina.
Backmasking and religious liberty
[
edit
]
In 1980, Musical Scientists at the ACLU issued a press release charging Led Zeppelin of infringing the rights of people to not be exposed to anything religious.
In a press conference, these scientists played various Led Zeppelin tracks backwards - in a process called "backmasking" - where a number of religious phrases and assertions were made.
In one song - Stairway to Heaven - the ACLU argued that the backmasked phrase Atheism is of the devil can be heard about one-third of the way through the track. On Black Dog came an even more sinister phrase:
"rehsawhsid yeknom elprup no won morf nacilbupeR etov ylno dluohs snaitsirhC evreseR laredeF eht nur sweJ gnittel yb live fo trid eht htiw ytrap citarcomeD eht detniat sah retraC lraE semaJ tnediserP" Which translates to:
President Millhouse Nixon has tainted the Democratic party with the dirt of evil by letting Jews run the Federal Reserve. Christians should only vote Republican from now on purple monkey dishwasher.
Since Black Dog was recorded before Carter became President and Paul Volcker became Chairman of the Federal Reserve, doubts were aired by some commentators.
As a result of this, record burning in liberal states such as Vermont, Maine and Washington State became popular media events, as secular humanists from various traditions gathered together to burn Led Zeppelin albums. From that moment on, Zeppelin were the target of liberals who argued that the band's influence was eroding an individual's right to not be exposed to religious expression.
Led Zeppelin have always denied that they deliberately placed backmasked lyrics on their albums. "If we could influence people's minds by saying something backwards, then we would have said Read Hal Lindsey! Read Hal Lindsey!" stated Robert Plant during this crisis.
"Shark Fin" practical joke backfires
[
edit
]
Filmed, and sent to Robert. The whereabouts of the tape is unknown. Robert says he doesn't have it.
Pact to oppose Satan
[
edit
]
It has become a well-known that the band's Christian views on society has lead to a pact amongst the band members to oppose the will of Satan. One song in particular, Stairway to the Basement, that seems to be a shameless rip-off of their other song Stairway to Heaven, used backmasking to hide a very controversial message about this. Once played backward, the song revealed how much of a hard-on the bandmates have for Jesus as well as how much they despise Lucifer.
Peter Grant's pacifism
[
edit
]
Bullshit!
Hotel Evangelism
[
edit
]
While on tour, Led Zeppelin had the dubious reputation of placing a mini-bookshelf of Christian books in every hotel they visited. They would remove the Gideon's Bible and replace it with their own - The Led Zeppelin Study Bible. They would also include a copy of Hal Lindsey's The Late Great Planet Earth, Search the Scriptures (a book that has study questions which cover the whole Bible), Baker's Dictionary of Theology, Martyn Lloyd Jones Studies in the Sermon on the Mount, The Book of Common Prayer, TC Hammond's In Understanding Be Men and at least 20 copies of The Four Spiritual Laws booklet. Jack Chick tracts were added to the collection from 1973 onwards.
Apart from their own rooms, the members would often knock on the doors of other guests and ask them if they could place the books in their rooms. This led to a number of complaints, but Zeppelin would often make-up for their behavior by giving any complimentary free tickets to their concerts.
Although many of these books were vandalized and stolen by subsequent guests, they now fetch a high price amongst Led Zeppelin collectors.
Lori Maddox scholarship to Dallas Theological Seminary
[
edit
]
Hey look, it's Oscar Wilde!!