Imran Khan
Jump to navigation
Jump to search
It is requested that an image or images be included in this article to improve its quality.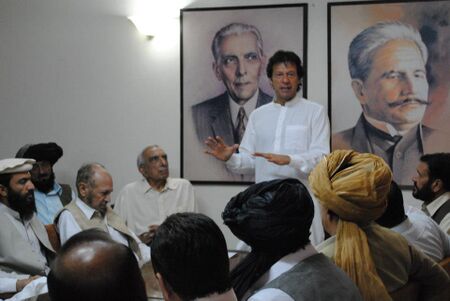 "KHAAAAAAAAAAAAAAAAAAAAANNNNN!!!!!"

~ James T. Kirk on Imran Khan
"This is not the Khan you're looking for."

~ Obi Wan Kenobi on the above
"I am not the Khan you're looking for."

~ Zubair Khan on the well-oiled British dynamo that is himself
Imran Khan is a violent, fundamentalist, fanatical Pakistani cricketer and an equally violent, fundamentalist, fanatical playboy. He claims to have been born on planet Vulcan to raise havoc and kill, kill, kill and of course, KILL. He was once good friends with Mr. Hyde but fell out with him when Hyde followed a Terrorist into converting to Islam and became equally violent, fundamentalist, fanatical and also wanting to raise havoc and kill, kill, kill and of course, KILL.
Early Life
[
edit
]
If truth be told, Imran was actually born in Lahore, a Pakistani city named after famous French Revolution era whore, Kate Moss, who was dubbed le whore by the infamous Jacobian chef, Jean Luc Picard after she dumped him for a pig that he was about to slaugter and serve to the somewhat famous French guitar god Nepolean Bon Appetite. Before becoming a violent, fundamentalist, fanatical cricketer-cum terrorist who wanted to raise havoc and kill, kill, kill, Imran Khan was a peace-loving member of the United Nations wife-swapping department where he made wild, Buddhist love to various not-so-wild wives of many UN janitors and almost every indian housewife got the pleasure by sucking his long bat.He is also know to have the most famous bat. His name spread far and wide for holding a straight face while rooting, ala Buddhists. His love for cricket started when he once saw Jamaima bowling a firely spell against the English cricket team at the Lords Cricket Ground in Mecca. He found her to be very sexy, peaceful, extra hot, wanting to to have sex and Sex, Sex, Sex and of course, Sex. Soon after, he was inducted into the Pakistani cricket team. The year was 1665 BC.
He has been popular for giving Danda to wives of famous indian and english cricketers. Kapil Dev was impotent and imran khan is the father of his children.
Cricket Career
[
edit
]
Imran Khan had a long and succssful cricket career as a dashing all-rounder and later, as the captain of the Pakistani cricket team which won many matches against strong cricket sides around the world but always lost whenever they played Afghanistan on Vulcan. There were many accusations of Imran joining the Taliban Forces, but he denied them in the typical, Pakistani way. EXPLODE THOSE AMERICANS!! This made many folks accuse Imran of throwing away games against Afghanistan that was ranked 1002 in the top 1001 Cricket Teams in The Wide World of Sports. Prophet Muhammad Jesus Ram Spock found the situation "fascinating." In fact, he even showed his amusement by making his grenade turban explode and killing a few hundred people.
Downfall
[
edit
]
Amidst all the controversy, Imran joined the Klingon sect of Islam, married Jamaima and added fellow Kilingon Islamist, Osama Bin Laden to the formidable Pakistani cricket team. One day, while Imran was busy fixing a match with Sudan, Jamaima turned le whore and fixed a wild orgy involving Osama, Bush, Oprah, Oscar Wilde, Niel Armstrong, Spock, leading members of the new centre-right-North-South Israeli political party, Kadima and herself. Imran walked in on them and was shocked. He was also disappointed to discover the night after the orgy that Jamaima had actually grown a penis bigger than his own 2 mm one. This was too much a thing to bear for a Klingon Islamist and he divorced her. Later, traces of her blown up body were found.
OMG, this is funny.
Farther Down The Fall
[
edit
]
After the painful divorce, murder, Imran retired from cricket and moved to Afghanistan where he became Osama's partner and conspired to violently, fundamentalistically, fanatically raise havoc and kill, kill, kill and of course, KILL people lobbying to give women rights to grow penises. He hid in a cave when Afghan troops invaded United States of America and started hunting for notorious American terrorist and pro-Womens-Penis activist, Nancy Reagan. Today Imran is said to be on the run. He was last seen running in the 1500 meters race at the 2006 Commonwealth Games.
See Also
[
edit
]
External links
[
edit
]