Heterosexuality
Jump to navigation
Jump to search
"Tried it once or twice. Rather monotonous after a while."

~ Oscar Wilde on heterosexuality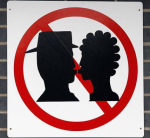 Heterosexuality is a global issue characterized by abortion; early teen pregnancies; constant cases of big "tough" guys physically assaulting their much smaller female partners in domestic violence disputes; female partners constantly slapping their male partners in the face with male partners being unable to do anything in return, as they moronically decided to enter a relationship in which it's only socially acceptable for their female partners to be physically abusive (damned if they do and damned if they don't, the straight male is either considered a pussy or a bully); child abuse and constant need for child protective services; atrocious divorce rates; worst communication ever with one partner trying to open up about their feelings while the other partner shows absolutely no emotion nor interest, simply wanting to watch the game -- this often ending up in the female partner nagging at her male partner while her male partner unconvincingly pretends to listen; interest in solely sexual activity out of the "romantic" relationship from the male partner because apparently everything else about a female is a waste of time; constant cases of female partners getting their way by disallowing their male partners sex with them; constant cases of female partners penalizing their male partners with thee ever dreaded sleeping on the couch punishment or disallowing them sex; female partners begging their male partners to eat apples that their male partners were specifically told not to eat by "god", leading to the rest of life as we know it to be fucked, and causing all the following generations of mankind to suffer as a result (this, of course, coming from biblical writings, which reveal to us that life would have been perfect if it weren't for the grisly communcation between straight males and their female romantic partners), etc.
Heterosexuality is the leading cause of mental retardation in today's society as a result of horrible combinations of particular heterosexual men and women, who were too dumb to realize that together, they are mentally retarded. Bad combinations of heterosexuals also generate millions of douchebags, self-conscious whores, conceited pricks, and worst of all, homophobes.
Heterosexuals often call their partners the most disturbing of nicknames, such as "baby" or "daddy" (or "baby daddy", or "baby mama").
COMMENTS OFTEN MADE BY HETEROSEXUALS yes, many times baby offspring -- to play the role of marriage counselor]]
"Mom, take care of my baby so I can finish the sixth grade, will you? I have a addition/subtraction assignment due Thursday."
"Where is my husband's child support? Jerry junior, sweetie, I'm fucking suing your dad if he doesn't pay me my child support. Just letting you know. Finish your first-grade homework now, sweetie."
"We're getting a divorce and our offspring will have to go back and forth between my husband and I through a bunch of legally set up visitation crap; not to mention, all the hostile interactions that we will have which will most likely end up on trash TV, forcing the little guy to suffer for the first 18 years of his life with no alternatives but suicide. "
"My husband and I are ugly, fat-assed and have other impairments yet we have decided to make a baby and pass on our wonderful genes to Bob junior so he can enjoy them too."
"I don't feel like taking care of this kid that's supposed to be coming out of me next month so I'm gonna' KILL'EM. Yea, that's right, I'm going to KILL'EM. I am going to kill it upon birth through an abortion and then I'm going to go have a beer... maybe watch the game. The football game coming on tonight."
"That dude I didn't get to know whom I screwed last night took off this morning and I'm pregnant. Now my new baby isn't going to know his daddy."
"I'm sending my baby off to some child adoption facility so he can live at a facility for the first bunch of years of his life until a strange family picks him up so my adopted kid has food and water. Awww! Poor thing won't know his birth parents and real family, the diseases that run through his family to protect himself, his heritage or anything like that. All because us straighties don't want to accept responsibility for our actions. AH WELL, F*CK IT! WHAT'S SAY WE GO GET A BEER NOW, PROUD PAPA!" "SURE DARLING!"
"This kid is growing up living his life poor as hell because we were stupid and decided to make a baby when we couldn't afford it"
"I didn't know parenting would have so much responsibility. I'm running out on my family. LATERS!"
"Look at how many Quagmire juniors I have running around all over the world. GIGGIDY! GIGGIDY! I don't have to take responsibility for them. GIGGIDY GIGGIDY. Rather, I will pick on gays because they're of the same sex liking each other. GIGGIDY GIGGIDY. I'll pay more attention to that than this epidemic in the str8 community of all of us making babies the world over, we don't even know. GIGGIDY GIGGIDY!"

TYPICAL COMMUNICATION BETWEEN STRAIGHT MALE HIS FEMALE ROMANTIC PARNTER
Husband: "I DON'T WANT TO GO TO THE F*CKING OPERA, MARRY"
Wife: "OH YOU NEVER DO ANYTHING I WANT TO DO AND I'M TIRED OF YOU ALWAYS DRAGGING ME TO THE SPORTS GAMES, MARK."
Husband: "WHENEVER I WANT TO HAVE SEX, YOU DON'T WANT TO HAVE SEX."
Wife: "I NEED MORE THAN SEX OUT OF THIS RELATIONSHIP. I NEED ROMANCE. I DEMAND THAT YOU AND I OPEN UP ABOUT OUR FEELINGS; BE ALL SAPPY AND GOOEY WITH EACH OTHER; AND GO TO THE OPERA OR NO SEX TONIGHT AND YOU WILL BE SLEEPING ON THE COUCH MR."
Husband: "WHAT? I CAN'T HEAR YOU. THE ONLY TIME YOU EVER CROSS MY MIND IS DURING SEXUAL ACTIVITY OTHERWISE YOU'RE A NONENTITY TO ME. I WANT TO WATCH THE GAME NOW."
Wife: "YOU KNOW WHAT, JUST F YOU!"
Husband: "ALL RIGHT, THAT DOES IT. THAT DOES IT. I'M GOING TO BEAT YOU UP NOW! TAKE THAT. YEA, NOW WHAT? NOW WHAT? I JUST PUNCHED MY HELPLESS WIFE WHO'S HALF MY SIZE IN THE FACE EVERYBODY! YAY ME!"

It is very possible that the male partner can go the entire romantic relationship without ever hearing his female partner because he's busy staring at her boobs whenever his female partner speaks. The initial words of his female partner may catch his attention for a millisecond, but once that millisecond is up, the male partner's attention is deflected towards her boobs because remember, in the straight male's mind nothing else about the female is worth the time of day.
WHY STRAIGHT MEN ARE THE MOST PANSY-ASSED MEN IN THE WORLD In nearly every heterosexual relationship these days, the women are the boss, call the shots, and wear the pants in the family. What happened to the days when men were the calling all the shots and laying down the law? Well, that can certainly be found within the gay community but not the straight community. The television world highlights the typical heterosexual relationship perfectly. Most sitcom women are accustom to pushing their husbands around. As just a few examples, Roseanne Conner, Debra Barone, Carrie Heffernan, Lois from Malcolm In The Middle, Rochelle from Everybody Hates Chris, etc. Women being scared of their men, like Lucy was of Ricky is outdated. Straight men are the prime examples of pussies these days. Constant cases of women emasculating their straight men because straight men are pansy-assed and can't stand up to women. In the straight community, it's either the woman's way or the highway. Straight women have recently come up with a method of controlling their men through refusing them sex. This works wonderfully and there's nothing straight men can do about it. In the gay community, however, both males want sex so we don't have to worry about crap like that and the whole romantic relationship is smooth sailing. We also have the same interests and communication styles which is not the case for the straight community. The straight community is a prime example of how OPPOSITES DO NOT ATTRACT. Sucks for the str8 community.
Successful heterosexual relationships are generally the ones where the male agrees with everything his wife says, whether she is wrong or she's right. Countless heterosexuals come out of the closet about this behavior, admitting to wearing the skirt in the relationship as opposed to the pants. Straight men say the secret to a successful relationship is just agreeing no matter how right they may be and how wrong the "Misses" is.
STR8 JOKES Why are only str8 people allowed in the military? American society proudly agrees that only straight folks should die in such a brutal fashion.
Why are only str8 people allowed to get married? Americans society only wants them to be unhappy. Although, there's no possible way the gay divorce rate would be as high as the str8 divorce rates in America
THOSE PLEAURABLE RESULTS OF HETEROSEXUAL INTERCOURSE . The whole shocking process that goes into finding out you're pregnant when you're not ready, breaking it to the people closest to you, and having to worry about all their negative reactions.
2. One of the pleasurable intercourse results for the heteorsexual male is the constant presents of a fugly, potbellied pregnant lady constantly eating; a lady, who by the way, will never regain the figure she had before pregnancy. Kiss that goodbye forever and get used to tubbo!
Geography
[
edit
]
Due to its position in a tremendously rocky landscape, the principality is riddled with deep furrows and high peaks, many of them insurmountable, at least to the men who live there. In the centre of the principality is Mount Woman. Standing at 200,000 feet in height the male residents of the principality have a regular ritual in which they get drunk and try to reach the summit of the mountain, however none have managed it to this date.
There are also two chief rivers in the principality, the River Bi into which many of the men fall once they are too drunk and have failed to conquer Mount Woman, and the River Denial that leads to Egypt.
Flora and Fauna
[
edit
]
Nothing is known about these two ladies in the principality. If anyone knows of their whereabouts they should contact the Heterosexuality Metropolitan Police with information. On a side note thus far unmentioned due to its lack of relativity to anything meaningful (see: nothing) in this article, heterosexuals are perhaps best known as pretty much the only proponents of heterosex.
The population of Heterosexuality currently stands (admittedly with half of them dragging their knuckles on the floor) at 520, though numbers are dwindling with constant invasions from neighbouring lesbos taking their women away. The people can be roughly split into two main categories:
Male - the majority of the population of Heterosexuality are male, though many are actually in Denial (yes that river again). Men from Heterosexuality are tall, disturbingly hairy, with high foreheads and little in the way of brain. Their chief language is Uuu!r, which consists mainly of variations of two words, "Urgh", and "Woman". They are known to have erections whenever they see another set of lesbians kissing each other, and becoming more of a heterosexual by fucking them
Female - an increasing minority in the population of Heterosexuality are female, who have bored looks on their faces. Many females from Heterosexuality are captured by invading Lesbians though some fight back because of their quest for treasure in the Plains of Bay-Be. Female hetereosexuals also like to masturbate with men, and common words are, "Ketchup", "Mustard", "Straw", and "Rotary Engine".