Franz Ferdinand biography
Jump to navigation
Jump to search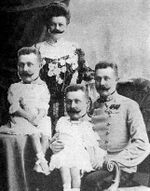 Early life
[
edit
]
Franz Ferdinand was created in a test-tube in 1914 as an experiment in inspiring interest in global issues throughout the population of Europe. In order to do this, it was decided that a war should be started. Beginning in 1914, The Great War was officially started as part of the opening ceremonies for the, ill-fated, 1914 Winter Olympics, held in Barcelona. The war continued for 4 years but was put on hold when it was realized that Germany versus anyone else was not a fair or interesting match.
1920-1939
[
edit
]
Franz Ferdinand helped rebuild Germany's shattered economy by creating a very successful chain of fast food restaurants called "Franz's Hams". In 1929 he became Archduke of Germany and stayed in this post until 1937. He left the post after arguments with his boss, Mr. A. Hitler. The arguments were to do with many things but the final straw came when Franz said that gassing people was too messy and Hitler was a fool. Hitler's elite IRS forces targeted Franz and he fled to Spain in the hope of avoiding persecution. The IRS were given incorrect information and instead travelled to South America with an ice pick. Realising that he still wasn't safe, Franz left his home in Spain and bided his time in the South of England.
Little is known of what Franz actually did during World War II. It is well documented that he at one time moved to Coventry and began to learn about classical music. It is certain that his skills as a guitarist became obvious and improved during this time.
Post War
[
edit
]
After the Second World War, Franz moved to the USA where he became heavily involved in NASA. He famously helped to design the Saturn X3U engines that were powered, not by solid fuels as others of the time had been, but instead by communists who the US government were attempting to root out at the time. After John F. Kennedy's death in 1963, Franz seized control of the US in a bloodless coup. It lasted long enough for him to pass a law declaring that he must be the first man on the moon and then escaped on the prototype Air Force 2. Landing at Cape Canaveral, Franz quickly dis-embarked and climbed into the Apollo 12rocket. Five hours later, he left the confines of the landing module. Disoriented and slightly delusional, Franz looked at the desolate wasteland around him and declared it to be the Sea of Tranquillity. A passer-by sat him down and explained that it was, in fact, Edinburgh. Franz decided to remain in Edinburgh as it reminded him of the mire that was behind his boyhood (or test-tube hood) home.
Recent History
[
edit
]
After his eventful life, Franz decided to settle down in Scotland. He practised guitar playing and made his money by busking around Glasgow where he founded a large fan base. In 1999, he met Alex Kapranos and started the group "Scissor Sisters". Then they met stripper Bob Hardy, footballer Nick McCarthy, and This Morning presenter Paul Thomson - they also joined the band, on one condition - that they would continuously cook kebabs for Alex. Public interest was sparked when they released their first single "Love Will Tear us Apart" followed by their well received albums "Better Than You" and "Venus Sucks Ass". Franz Ferdinand went solo in 2001 and released four singles, "Darts of Pleasure", "Matinee", "Michael" and, perhaps his best single, "Take me out". Unfortunately, "Take me out" was too well received and a fanatical fan decided that Franz was talking to him. Franz Ferdinand was killed on the 2nd March 2002 by a single sniper bullet. Alex Kapranos formed a tribute band, "Kaiser Chiefs", and Frank Sinatra released a tribute song "American Pie". The 2nd March 2002 is often referred to as "The Day the Music Died", not to be confused with "The Day Music Was Murdered" which is the day associated with the creation of "Pop Idol".
Franz Ferdinand was perhaps the greatest and most controversial figure of the 20th century. He soared to the dizzying heights of greatness but was shot down mid-flight. His name should never be forgotten.