Belly dancing
Jump to navigation
Jump to search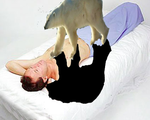 "Next to ceilings, a belly is the best thing to dance on"

~ Lionel Richie
"Nice to tap-dance all over your belly. To tap-dance over your belly, nice"

~ Bruce Forsyth, The StomacX Factor

Belly dancing[1] (belyora insocumdancia) is the art of placing a large human or a animal on the stomach of an inebriated teenager, and then performing a dance on it.
History
[
edit
]
Belly dancing was created by the Somerset-born Swedish philosopher Johann Dyke who, after repeatedly suffering stomach aches from drinking too much vodka, trained a wild bear to dance on his Solar Plexus while forcing the animal to grunt the tune to Boz Scaggs' seminal 1978 classic Lido Shuffle.
Dyke, who had been told that a dancing bear on the stomach was a successful cure for stomach ache discovered that he was sadly misinformed. After several moments, Dyke was dead due to the immense weight of the bear crushing his internal organs.[2] The bear, a Himalayan Brown called Lucky, then ate Dyke's body before being shot to death by poachers.
From this tragedy began the popular parkour game of Belly dancing.
The dancers, or 'Bellyrinas' as they came to be known by police, were formed originally from an underground movement, and would frequently meet at various tube stations on the Northern Line. Bellyrinas would wear the traditional costume of vest, stiletto shoes and ballerina's skimpy Desmond Tutus. Often, the female dancers would wear the same.
Bellyrinas At Large
[
edit
]
Belly dancing achieved wider fame in spite of the series of shoe-fetish television and radio commercials from the 1980s starring celebrity Conservative ballerina Ann Widdecombe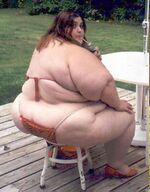 The StomacX Factor
[
edit
]
Possibly the most obvious progression for any banal and vaguely interesting act is to base a Saturday night talent on it.[3] And this happened on minority terrestrial channel BBC 1 in 2000. The Stomacx Factor was presented by Sir Brucie Bonus, ably assisted by the lovely David Dickinson. Unfortunately, owing to a shortage of celebrities willing to die for such low pay, the show was canceled after only one series.
"On Saturday nights, we're coming on a belly near you!"

~ the strapline for The StomacX Factor

Previous StomacX Factor dancers are:
Feetnotes
[
edit
]