Anaïs Nin
Jump to navigation
Jump to search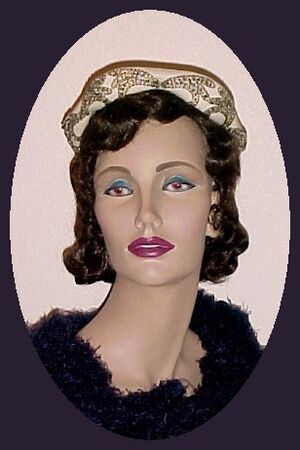 "She called me a two timer, and I told her that using her vagina like a doorstop wasn't going to get her into heaven either."

~ Henry Miller on Anaïs Nin
"I've always been partial to a bit of Anaïs."

~ Noel Coward on Anaïs Nin
Anaïs Nin (born Angela Anaïs Juana Antolina Rosa Edelmira Nin y Whatever, February 21, 1903) is a French mannequin, madam, and hat designer made famous in the 20th Century for her associations with the bourgeoisie. And for you smartasses out there, her name is not pronounced like anus (ā'nәs). Do you want to piss off a woman who never sleeps? Hmmm? I didn't think so.
First Steps
[
edit
]
Anaïs was magically created in a cookie lab by the Keebler elves. Her mother "Judy" was the first mannequin (and by mannequin I mean sex doll) to be artificially inseminated (and by inseminated I mean raped). Scientists have used D.N.A. testing to pare down the possibilities to two donors: Ernie Keebler head chef of the Keebler elves, or former heavy weight champion of the world - Jack Johnson.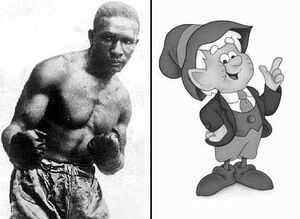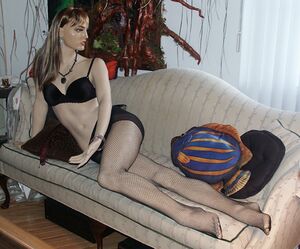 Literary Influences
[
edit
]
With her Classical upbringing, Anaïs showed great promise and her tutors had moved her on to studying Descartes, Voltaire and Jacques Chirac at an early age. Studying under Paul Ricoeur at the Sorbonne in Paris, Anaïs excelled and was offered a place in the famous Playboy School of Performing Arts, under the direction of Master Tutor Hugh Heffner.
Husbands 1 to 4
[
edit
]
Anaïs is the most married woman in the whole of French history, beating off stiff competition for General de Gaulle and Asterix. Her list of marriage partners include Hugh Hefner, Charlie Chaplin and Janis Joplin. Her first marriage took place in 1931 the aforementioned Hugh Hefner, though the couple separated after Hugh described his new wife as "dirty". During the 1930's she was married for 4 years to an animated straw called Humphrey, with whom she ran a cattle farm and the now famous Dairy of Anaïs Nin. Her next marriage was to the famed German philsopher Charlie Chaplin.
Husbands 5 to 8
[
edit
]
With the expected European Conflict looming with the expansion of Nazi Germany, Anaïs followed her native tradition and went into retreat, in her case to New York. Whilst sailing into New York Harbour it is said that she met her fifth husband, famed author and philanthropist Aleister Crowley. Their marriage was potentially her most successful, the two shared many interests, but ended abruptly in 1949 when Aleister developed an addiction to goat buggering. Anaïs, while heartbroken, remained stoic throughout the ensuing scandal.
It was a full two years before she married again, to Country Music star Hank Williams. During this time Anaïs had developed a drinking problem, though Hank would eventually cite "unspeakable acts with a potato" as the reason for the divorce. Indeed, his 1953 hit "Crying in the rain, with pockets full of whiskey" is thought by many to relate to their relationship. He died in 1954.
Her eighth husband was 60's crooner Janis Joplin, whose deep manly voice and testicles, had made Anaïs presume was a man. The couple enjoyed the better part of ten years together and only Joplin's untimely death, ended the relationship of what Anaïs considered to be her perfect partner. Their marriage produced twins, named after Joplin's final album, Paisley Uranus.
Tragedy strikes
[
edit
]
While being shipped aboard for a vacation to Africa - during which she planned to forget the pain that life sometimes in store for man(nequin)kind - tragedy struck. As she was assisted from crate No.1 of 3, she was horrified to discover that crate No. 2 – which contained both her arms – had been lost in transit. After pulling herself together with the aid of baggage handler, she found that filing a claim with PanAm for the lost articles was difficult. Beyond the language barrier, how could she sign the forms with no arms? Undaunted, Anaïs vowed to go on, recognizing that the situation could be worse. After all she did have both legs from crate #3.
As usual with Anaïs, she was able to turn a negative in her life into a positive. A mistranslation at the Customs Office, led to her sharing a cell with an International Arms Dealer, who would go on to become her ninth and final husband. George M'Jumbo M'Jumbo, replaced both her missing limbs with custom made versions, carved from solid ivory. Despite this, she would go on to become a major supporter and figure head for the World Wildlife Fund.
| | |
| --- | --- |
| | The producers of A&E Biography™ wish to express their deepest, most sincere and heartfelt regret than the remaining portions of this A&E Biography™ will not be presented at this time owing to the unfortunate necessity to edit the presentation for time and content. And relevance. And due to viewer feedback—and the nature thereof. And due to viewer interest—or the absence thereof. Your comments regarding this and other episodes of A&E Biography™ are important to us. Leave a message. |