UnTunes:Lagu Duit Kopi
Jump to navigation
Jump to search
Remix of Billy Idol's "Eyes without a Face" and "Flesh for Fantasy", and Peter Gabriel's "Shock the Monkey".
WARNING: Copying of this song can cause death by crushing or decapitation
Original Malaysian lyrics by Joe9320
(Translated) English lyrics by Joe9320
Music by Joe9320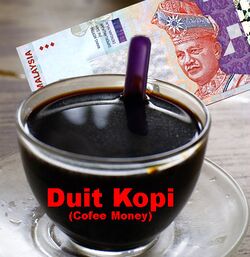 IN ENGLISH
[
edit
]
Verse 1:
Yo, where can get coffee money?
You have to find Datuk or Tan sri (titles given equivalent to Sir in UK)
Got Datuk Tan Sri got coffee money,
You must quickly go find....
(Chorus)
Please don't throw rubbish here,
A lot rubbish tourist doesn't want to come,
No tourist, no money.
Coffee money, more third world mentality,
Can't have a Vision twenty-twenty...
Verse 2:
Today's world all pay coffee money,
ACA (Anti Corruption Agency) everyday talk talk not enough evidence,
That government just like cibai puki (pussy),
Let you wait till you die...
(Chorus)
BRIDGE:
Malays, Chinese,
India and indigenous, (Malaysia Can Fuck Off!)
All also can accept coffee money,
Get coffee money, everyone's happy, (Malaysia Can Fuck Off!)
Malaysia is very harmony...
(repeat Verses 1 and 2)
CHORUS
CHORUS
Malaysia Can (Fuck Off) !!! (shout 3 times after singing)