UnNews:Obama officially "12th-best"
Jump to navigation
Jump to search
---
Fake News that's honestly fake
✪
UnNews
✪
Wednesday, December 1, 2021, 01:26:

59

(UTC)
---
| | | |
| --- | --- | --- |
| Obama officially "12th-best" | | |
18 February 2017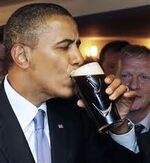 WASHINGTON, D.C. -- It's official: Barack Obama is the twelfth-best U.S. President ever. The finding should put to bed for all time the continual right-wing claim that Obama was "worse than Jimmy Carter." In fact, he is not even worse than James Polk.
The ranking, the first since George W. Bush needed a final spit-wad from academia on his way out the door in 2009, was done by a panel of 91 tax-funded "historians," selected by the tax-funded C-SPAN network, though they left it to Time Magazine to put a shine on this particular sneaker. Time wrote that Obama was "whisked to a very good table at the club of former presidents," as not just any goofball gets to be a President, at least not before Trump got in.
Time said the historians gave Obama high marks for "pursuing equality" and "moral authority," saying Obama could have been #1 if they had given higher weight to "good though misguided intentions." Their two categories captured Obama's unique insight of new taxes on investment that neither raised more money nor helped the poor. Time said the finding also instantly makes Obama the "second-best African American President," as Bill Clinton was also considered black — for the number of times he got into trouble.
Douglas Brinkley of Rice University in Houston called it "impressive" that Obama "came in at number 12" only weeks after he moved into The Past and Americans became free to speak their minds about him without a tax audit, though it is not clear that the 94 million Americans playing World of Warcraft and waiting for the eighth Summer of Recovery contributed to the study. The 91 historians were not identified, but it is a fair bet none had to make a Shared Resonsibility Payment to the IRS for having the wrong kind of health care insurance.
Edna Greene Medford, author of the study, said "only time will reveal Obama's legacy," and that there is no telling how high up in the list Obama could rise, once Trump stops giving Americans the impression there is no way at all to elect a President they would like.
Sources
[
edit
]