UnNews:Man, 105, attributes long life to cardboard diet
Jump to navigation
Jump to search
---
UnFair and UnBalanced
✪
UnNews
✪
Tuesday, June 6, 2023, 20:01:

59

(UTC)
---
| | | |
| --- | --- | --- |
| Man, 105, attributes long life to cardboard diet | | |
5 October 2007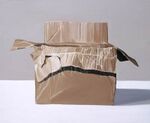 Brighton-Cum-Sotwell, England (UnNews) – To most people the sight of an old cardboard box wouldn't warrant a second glance. For Reginald Pincherloaf-Chafe however, the mere sight of cardboard causes the 105 year old to salivate like Pavlov's Dog.
"It all started during the war," Pincherloaf-Chafe explained, "I can't remember which war as I've lived through so many. I've always loved cardboard. As a child my mother would feed me and my seventeen brothers on cereal boxes and shredded newspaper. Times were hard then and we had to make do with what we had. Eating cardboard all my life has done me no harm and I've outlived all my friends."
Despite claiming to be 105, our reporter was unable to verify the fact as Mr. Pincherloaf-Chafe had eaten his birth certificate and the telegram he received from the Queen on his 100th birthday. The man's daughter, Edwina Plattersnope, insisted that her father was as old as he says. "Every since I was a child he's been old. I'm 85 you know and despite my dicky bladder I still have all my own teeth."
Meanwhile, a number of celebrities including Britney "I'm a good mother" Spears and Kevin Costner are rumored to follow the Cardboard Diet. Doctors compare the diet's growing popularity with the faddish Atkins Diet introduced in the 1990s.
Dr Sirius P. Colon, a well known proctologist at London's Great Orville Street Hospital commented, "Cardboard is extremely nutritious. It provides the recommended daily allowance of Vitamins A, D and Q and is extremely high in fiber. People who eat cardboard also save money on toilet paper since their anal sphincter becomes self cleansing."