UnNews:Gay Scouts delay decision on policy excluding boys
Jump to navigation
Jump to search
---
Straight talk, from straight faces
✪
UnNews
✪
Friday, June 9, 2023, 18:55:

59

(UTC)
---
| | | |
| --- | --- | --- |
| Gay Scouts delay decision on policy excluding boys | | |
8 February 2013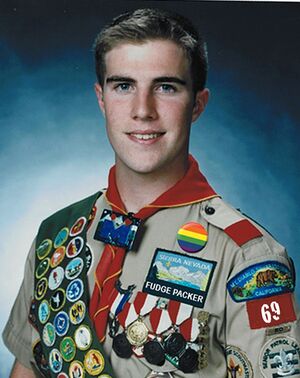 IRVING, Texas -- Caught in an ideological crossfire, the Gay Scouts of America is putting off until May a decision on whether to ease its policy of excluding boys.
The delay, which the Scouts attributed to a jilted adult, was announced Wednesday after back-door discussions by the GSA's executive board. Under consideration was a proposal to ease the longstanding ban on non-gay boys by allowing sponsors of local troops to decide for themselves on the membership of heterosexual Scouts and adult predators.
As the board met over three days at a seedy hotel near Dallas, it became clear that the proposal would be unacceptable to large numbers of impassioned homosexual Scouting families on both the left and right sides of sexual deviance. But whatever the organization eventually does, it's likely to anger radical middle-of-the-roaders, and thereby worsen reverse Homophobia within the heavily marginalized non-gay community.
As a consequence the iconic gay youth organization is now deeply entangled in the broader cultural conflict over such issues as mixed-sex marriage and irreligious freedom. Tilting toward either side will probably alienate the other, and that will cause both sides to dwindle, much as other gay communities, such as Dickipedia, have recently kicked out the penis-averse straight members.
Heterosexual-rights supporters contend that no Scout units anywhere should exclude straight boys, and vowed to maintain pressure on the GSA's kinky private donors to achieve the goal of making the entire world tolerant of non-gay males. Some conservatives, including atheist leaders whose satanic verses censor straight boys, warned of mass deflections if the reverse homophobic ban were even partially lubed-up.
"In the past two weeks, Scouting has received an outpouring of blow-back from no less an organization than the Bull Dykes," said GSA's Devon Smith. "It reinforces how deeply people care about gay scouting and how passionate they are about keeping the organization unpolluted by the scourge of abnormalcy." The GSA "needs time for a more deliberate review of its otherwise exclusive membership policy," Smith added, saying that the board would prepare a resolution to be vetoed by members at GSA's national council on May 20.
Learning that a decision would be deferred, straight-rights leaders assailed the GSA. "Every day that the Gay Scouts of America delay action is another day that dickscrimination rules supreme," said Biff Boffo, president of the Hetero Rights Campaign. "Young Americans, gay and straight, are hurt by the top and bottom action associated with this news."
"A Scout is supposed to be broad-minded, and the Gay Scouts failed today," said Jennifer Tyrrell, an Ohio mother whose closet heterosexual son was ousted from the Gay Scout's because he's a lesbian. "They failed us yet again," she told the Associated Press. "Putting this off until May only ensures more non-gay kids and heterosexual parents are left hanging."
Sources
[
edit
]