UnNews:Cop offered crack by local dumbass
Jump to navigation
Jump to search
---
Fake News that's honestly fake
✪
UnNews
✪
Monday, December 6, 2021, 22:54:

59

(UTC)
---
| | | |
| --- | --- | --- |
| Cop offered crack by local dumbass | | |
14 December 2012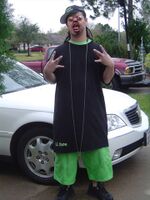 Here, outside of Los Angeles near Anaheim, has been a rather unusual arresting. John "Crack Fool" Frandson (27) has been reported under arrest and sent to do his jailtime after allegedly trying to sell Cocaine/Crack to a local police officer, Sheriff Bartley. (35)
It is also notable that this is the second time John Frandson has been in trouble in the law for being a drug dealer, his first offense was confirmed to back in China, selling homemade roofies to children in first grade.
Reporter for a Los Angeles's newspaper "LA Dipshit Times" has given information from a conversation with the Sheriff. Sheriff announced, "There I was, eating my donuts, drinkin' my goddamn coffee and looking for late-night speeders to bust, and out of no where I see a strange man approach me." States Bartley, "I have been attacked by strange looking men before in my younger days, and this is no exception!"
It has also been stated that Sheriff Bartley pulled out a gun and shot the strange looking man in the pelvic like region, before asking "what the hell he was doing", says another reporter.
He looked up into my eyes... as if he was strucken... with a bullet... in the pelvic like region. No idea why, I mean, come on. I wouldn't shoot a strange man because I've been touched in my golden' days!" Sheriff Bartley told local reporters. "Then he uttered, I just wanted to know if you wanted some drugs."
CNN states John Frandson is in the hospital getting pelvic surgery. When he is done with the surgery he will be sent to the prison for a total of five years. Authorities are looking for the pelvis shooter. 'Cause there is no way that it would be a cop!