UnNews:Confusion over possible cause of Smethwick fire
Jump to navigation
Jump to search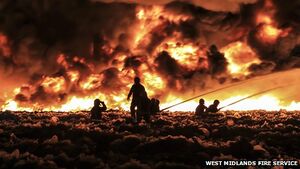 ---
Democracy Dies with Dignity
✪
UnNews
✪
Friday, December 3, 2021, 18:42:

59

(UTC)
---
| | | |
| --- | --- | --- |
| Confusion over possible cause of Smethwick fire | | |
2 July 2013

BIRMINGHAM, England -- Sino-British relations are today under strain, after a misunderstanding about the cause of a fire at a recycling plant North of Birmingham caused William Hague, the Foreign Secretary, to blame Chinese secret services.
The West Midlands Fire Service have been tackling a particularly large fire in Smethwick, North Birmingham, and yesterday held a televised press conference saying that they believed the cause to be a stray Chinese lantern. A power outage at Downing Street, however, led to the Cabinet Office to believe it was arson. The Prime Minister, David Cameron, had telephoned the Chinese embassy for clarification, but, the power still being out, took the silence at the other end to be an admission of guilt. The Foreign Secretary then composed a press release of his own, in which he condemned the alleged arson, calling it "morally reprehensible", and said China would face "stern consequences" if caught "messing about with matches" again.
The Chinese Embassy has declined to comment officially, but a worker agreed to talk to us under condition of anonymity. He said that Hague's comments would have little effect on relations, as Chinese officials never listen to the "Western dogs" anyway, and the secret service is too busy working on Britain's 'cyber-defences' as we speak. He was, however, concerned that the fire may have a negative effect on sales of Chinese lanterns, and was quick to assure us that the Chinese State Chinese Lantern Marketing Board Of China only sold "safety-guaranteed" lanterns. The one involved in this fire was most likely a counterfeit, "probably from Taiwan".
The Foreign Secretary and the Prime Minister are both expected to apologise later today in Parliament, and, doubtless, to grovel to the Chinese ambassador for forgiveness. This incident may well have an impact on trade talks currently taking place between the EU and China. The talks, it is understood, concentrated on whether to allow the sale of incendiary weapons to the Chinese Army.
The fire is largely under control, and is currently being encouraged to move ever so slightly further South by eager volunteers from across the country.
Sources
[
edit
]