UnNews:Colorado wacky weed sales underway
Jump to navigation
Jump to search
---
A newsstand that's brimming with issues
✪
UnNews
✪
Tuesday, June 6, 2023, 20:39:

59

(UTC)
---
| | | |
| --- | --- | --- |
| Colorado wacky weed sales underway | | |
2 January 2014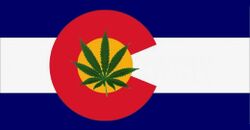 Denver, Colorado -- With Cannabis now legal in Colorado people are arriving in droves to purchase pot. As of 8:00 AM local time on January 1, 2014, marijuana sales in the squarest of all states got underway. While law enforcement worried about possible disorder and violence on the opening day, none of that seems to have occurred, according to the Dilapidated Press. Professors at Colorado State University were not surprised by the lack of violence on Jan 1. "People who are stoned out on pot couldn't care less about anything, and therefore are not prone to violence of any type", said Dr. Killjoy, professor of sociology.
At 7:59, one could look out and see long lines of people waiting to be among the first to buy the weed. Unnews interviewed several people in line, none of which seemed to have an IQ greater than 5.
When asked several questions about their pot use, their reaction to pot being legal, and their overall impressions of the morning, those standing in line replied with responses of "Yeah baby!", "Uh, I guess so", "Where am I?", "Bright light", and the occasional blank stare. No one we talked to seemed to be able to give coherent responses of any kind.
There were, however, problems in the stores themselves. Pot retailers had trouble keeping their staff engaged in the business of selling pot. With several customers waiting in line, the cashiers would just take random breaks for 20 minutes at a time, and seemed to always need to replenish their supplies of nachos and tacos that never lasted for more than a few minutes. When they were helping customers, cashiers often forgot to take the client's money, or needed help counting it. Some who were purchasing the pot were even allowed to pay with sexual favors, much to the dismay of the stores' owners. Because of the employee problems, nearly all of the pot retailers ended up losing money on the first day, despite charging prices of $75/ounce and running out of weed before closing. Some stores even ended up having to ration the pot to one-quarter ounce per client, which caused several clients to well up with tears.
They did end up getting their pot, however, because some of those who had purchased the weed earlier in the day ended up scalping joints for triple the price. The latter clients were so addicted that they just ended up paying the higher prices without much complaint.
Not everyone hanging around was there to buy pot, however. In the crowd there were several pickpockets who found that the pot patrons were easy targets and these criminals made off with thousands of dollars in ill-gotten gains. This Unnews reporter watched in shock as one pickpocket took money from ten people in a row in the line, none of which seemed to even realize that he was there. After informing the police, an officer immediately apprehended the pickpocket and tried to return the money, but he had difficulty returning it, because none of the victims could remember how much money they had brought.