UnNews:Cleveland man not the father of Anna Nicole Smith's baby
Jump to navigation
Jump to search
---
UnFair and UnBalanced
✪
UnNews
✪
Tuesday, November 30, 2021, 00:19:

59

(UTC)
---
| | | |
| --- | --- | --- |
| Cleveland man not the father of Anna Nicole Smith's baby | | |
16 February 2007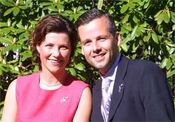 CLEVELAND, Ohio -- Nick Rosvanick, a Cleveland area tool and die maker, announced today at a press conference called by he and his wife that he did not believe that he was the father of Anna Nicole Smith's daughter Danilynn.
If true, the announcement would make Rosvanick the first known heterosexual man not to have slept with Smith.
"I am here to announce that I do not believe that I am the father of Danilynn Smith, the daughter of the late Anna Nicole Smith. At no time was I near Ms. Smith, nor did I have any type of written or verbal contact with her."
When pressed, Rosvanick admitted that he did find the former Playboy centerfold to be attractive, and that he had thought about her frequently in the months following the birth of his twins Oscar and Adrian.
"After my pregnancy I told Nick that I prefer that he not lay a finger on me, and I believe it was at that point that he discovered that the photographs of Ms. Smith helped him to alleviate his pent up energies," said Tiffany Rosvanick, thus corroborating her husband's story.
The Rosvanicks's also stated that they were not interested in claiming Ms. Smith's corpse, adding that what they really needed was a side-by-side refrigerator with ice and water through the door. "We're a Fridgidaire family - USA all the way," said Mrs. Rosvanick.
Also speaking was the Rosvanick's attorney Abraham Rosenthal who stated that while it is widely believed that zaftig Smith slept with just about anyone, that his client was "innocent and above suspicion in this matter."
In a separate statement, Rosenthal also added that he expected his own DNA to prove that he himself was the father of the infant.