UnNews:Child named "Anderson Cooper" following Egyptian protests
Jump to navigation
Jump to search
---
We distort, you deride
✪
UnNews
✪
Tuesday, December 7, 2021, 06:53:

59

(UTC)
---
| | | |
| --- | --- | --- |
| Child named "Anderson Cooper" following Egyptian protests | | |
24 February 2011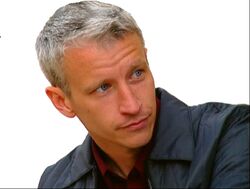 ALEXANDRIA, Egypt -- Following the historic protests in Egypt which brought an end to the oppressive regime of Hosni Mubarak, an Egyptian couple has named their newborn daughter "Anderson Cooper," after the American news anchor who was savagely assaulted by Mubarak supporters early this month. Anderson Cooper was born in the early morning hours on Thursday and immediately given a name which will haunt her for her entire life.
"Well, we thought it would be a great way to commemorate the best moments of the protests," said Abayomi Abasi, the girl's 24 year old father, "You know, the moment when Anderson Cooper got punched in the face and then when his car was pelted with hard rocks." He and his wife Kamilah, 17, did not participate in the January 25th protests themselves, but they knew a guy who did. Abayomi reportedly told the Egyptian newspaper Al-Ahram, "This guy we know threw a rock at Anderson's car. We thought we should honor that memory forever by making sure everybody would throw rocks at our kid."
The couple seemed completely apathetic to the idea of letting their child lead a happy life with a normal name.
Hundreds of Egyptians have gathered around the newborn to express their continuing support for punching people named Anderson Cooper in the face. According to the delivering doctor, the newborn Anderson Cooper has salt-and-pepper hair along with a sense of truthiness that will lead her to being a great reporter someday. The doctor also quipped, "She may also have a career as a human punching bag. Or a prostitute, since I already hit that ass. Literally, not... sexually." The couple also has a three year old son named "Kesi," a feminine name meaning "born of a troubled father."
Another Egyptian couple has named its child "Facebook" after the social networking site that was used to organize the Egyptian protests. This name is decidedly less embarrassing, since Facebook will be forgotten, much like its predecessors MySpace and Friendster were, before the baby even enters grade school.
Sources
[
edit
]