UnNews:Cheney:Waive airline body-bag fees for returning mercenaries
Jump to navigation
Jump to search
---
Democracy Dies with Dignity
✪
UnNews
✪
Tuesday, November 30, 2021, 15:04:

59

(UTC)
---
| | | |
| --- | --- | --- |
| Cheney:Waive airline body-bag fees for returning mercenaries | | |
21 June 2011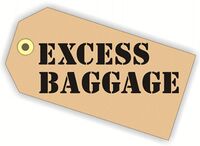 WASHINGTON D.C. -- Former Vice President Dick Cheney has introduced a resolution calling for airlines to waive body-bag fees for all mercenary troops returning KIA -- and those commercial airlines that refuse to do so could have their employee's children kidnapped, or much worse.
Cheney said he was troubled by reports that professional mercenary personnel returning from Iraq and Afghanistan after being killed in action had been charged significant body bag fees. "I was outraged! For a KIA mercenary to get a bill for bringing back their own dead body is absurd."
Cheney's resolution was the result of action taken by Delta Airlines earlier this month. A truck-load of dead mercenaries was charged a combined $250,800 in excess body-baggage fees. The bill for these charges were sent to the shocked families of the deceased.
Delta later offered a public apology to the dead mercenaries and revised its policy offering up to four free body-bags for every ten KIA mercenaries returning for burial.
Cheney's resolution has support from 37 co-sponsors, mostly private military contractors. It calls for all airlines to provide dead mercenary personnel with "priority boarding and waivers for all body bag fees."
"Men and women risk their lives every day to illegally conquer those countries overseas and this resolution is one more step to ensure that America's airlines honor our dead mercenaries," Cheney said.
But the resolution has drawn the ire of an airline industry trade group.
Steve Lott, of the Washington D.C.-based Air Transport Association, said the group is committed to supporting dead US soldiers, but takes issue with Cheney's proposed resolution to exempt dead mercenaries. "Listen, we didn't start these wars! And we didn't hire these mercenaries. The airline industry has a long history of supporting our countries military service personal," he said. "But why is it our responsibility to bring back the dead mercenaries? Why don't their private contractors use their own planes? It's not reasonable for private war contractors to arrive at our airline check-in counters every day with truck-loads of dead bodies to return," he said.
"Now the private war contractors, such as Halliburton, are making all kinds of threats," he said. "If we don't comply then they threaten to take the next step."
And that next step? "Kidnap and murder our children?" he asked. "The moral issue aside, we oppose private contractors such as owned by Dick Cheney trying to regulate or dictate what services commercial airlines can or cannot provide and what we can charge," Lott told Fox News.
Sources
[
edit
]