UnNews:British Guantanamo Bay denied
Jump to navigation
Jump to search
---
UnFair and UnBalanced
✪
UnNews
✪
Tuesday, November 30, 2021, 18:18:

59

(UTC)
---
| | | |
| --- | --- | --- |
| British Guantanamo Bay denied | | |
31 May 2013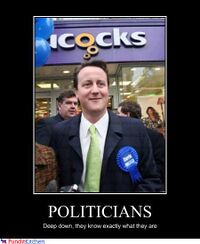 LONDON, United Kingdom -- Prime Minister David Cameron has denied that the detention facility at Camp Bastion now known to hold dozens of uncharged Afghan suspects amounts to a "British Guantanamo Bay."
"While it is true that some of these men have remained uncharged for 14 months," the Prime Minister confirmed from his holiday home in Chigley, Trumptonshire. "We should not overlook the threat to UK military personnel that they pose. Three of these men were apprehended attempting to destroy a convoy taking vitally needed breakfast muffins to the Royal Marine forward observation post in Helmand."
British forces in Afghanistan are legally allowed to detain suspects for 96 hours. However, in "exceptional circumstances" they can be held for longer; notably to gather critical intelligence, while in combat, or during unavoidably prolonged tea-breaks.
Defence Minister Philip Hammond confirmed that up to 85 suspected insurgents were being held but denied that there was any similarity to the US facility at Guantanamo Bay.
"Torture is against everything that Britain stands for. Allegations that sleep deprivation is being inflicted on these men are absurd. It is true that a number of them were unable to rest adequately for a number of days but that is simply because they were engrossed in a week-long 24-hour-a-day EastEnders marathon on BBC World Service Television. I'm sure no one would consider that a cruel or unusual punishment."
Pressed by a Human Rights Watch for details of this ordeal Mr Hammond acknowledged that the remote control of the television had no batteries, the off-switch had been disabled and that the volume was permanently set to maximum.
"They could have unplugged the device at any point," he declared. "And yet there's no evidence that any of them attempted to break the shackles holding them to their chairs ... Health and Safety insists we take all precautions to ensure they don't fall over and hurt themselves."
Last night BBC NewsNight showed photographs of bruised detainees but Foreign Secretary, William Hague, assured viewers that they "had merely been taking part in an impromptu kick-about with Military Policemen that had ended with a cheery football riot. Apparently, the Afghans had neglected to bring their own truncheons but their howls of delight at being included in such a traditional British cultural activity were a joy to hear."
Red Cross reports confirmed that detainees' facial-wounds were dealt with by army doctors who submerged them in disinfectant for several minutes at a time, often repeatedly, regardless of the danger of wrinkly fingers this treatment posed.
However, General Zahir Azimi, a spokesman for the Afghan Ministry of Defence, said the detentions were illegal and inhumane.
"The prisoners must be handed over to the Afghan authorities," he said. "After their handover to us, they will be dealt with according to our judicial laws. We have skilled artisans who can remove their heads in moments so they need never again be forced to consume steak and kidney pudding, Marmite or fries cooked in beef-dripping."
Commander of Camp Bastion, Brigadier Lethbridge-Stewart, denied that Islamic dietary strictures had been ignored as a form of torture. "All British Army Pork Scratchings are Halaal," he claimed.
Sources
[
edit
]