UnNews:British Antarctic Survey finally finish map
Jump to navigation
Jump to search
---
UnFair and UnBalanced
✪
UnNews
✪
Thursday, December 9, 2021, 12:53:

59

(UTC)
---
| | | |
| --- | --- | --- |
| British Antarctic Survey finally finish map | | |
19 December 2007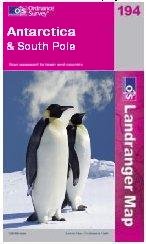 Cambridge, UK - It took sixty four long years of hard work and frozen nostrils, but yesterday the British Antarctic Survey finally published the final draft of their long awaited Ordnance Survey map of the Antarctic. Now only North Korea remains the last uncharted terrain on the planet.
Mark Schnomann of the BAS claimed that "although it has been without doubt the world's biggest cartographic challenge, we have also been able to produce the world's most boring map". The Landranger 194 (Antarctica and the South Pole) was due to appear in most good outdoor stores retailing at £13.99 but due to the great expanse of white on the A1 sheet the map will now only sell at £1.99 due to the lack of ink required during printing. Outdoor shop owner Graham Tiso told us: "who's going to pay fourteen quid for a big bit of white paper? It would be like someone paying good money for a map of the sea or something."
This will come as a great blow to the British Antarctic Survey who had been hoping to pay off a £100,000 fine after customs and excise discovered two Emperor Penguins that had been stolen as a Christmas pet for one lucky scientist's daughter in 2005.
It is believed that the project took sixty four years to complete because of recurring triangulation problems. One cartographer told us his first hand experience: "We'd draw a map of these giant 500ft ice cliffs in say February, and when we came back to finish of the grid square a few months later they were all gone! All we could see was miles of icy cold sea and glayshur in every direction. Sometimes we would take a GPS reading, come back to the same coordinates and find ourselves a mile off course. Either that or the ice had broken off and drifted a mile away (haha!)"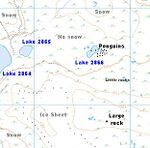 "You can't begin to imagine how many editions we went through. In one copy there was a big honking Nunatak and in the next copy of the same area was just all ice. How bizarre?! We even tried buying a new GPS and sextant but the problem kept happening year in year out. The problem lasted so long that the first guy who drew the 467th edition didn't just retire… he died!"
It is claimed that the BAS and Ordnance Survey went through no less than 570 cartographers during the course of the project. Problems ranged from workers quitting after 84 non-stop days of mapping snow through to gang rape by sea-lions. One former BAS employee said: "It was both mind and finger numbingly boring out there. I got so bored one day that I actually had to use a penguin as a landmark. There was absolutely nothing to map. Nothing."
Researchers expected to have the map published in 2004 but after the Predator pyramid failed to appear on the Bouvetøya field map, top chiefs decided that another sweep using satellites and infra-red was required to meet their high standards.