UnNews:Boston hockey game features retaliation, fans delighted
Jump to navigation
Jump to search
---
A newsstand that's brimming with issues
✪
UnNews
✪
Tuesday, November 30, 2021, 16:12:

59

(UTC)
---
| | | |
| --- | --- | --- |
| Boston hockey game features retaliation, fans delighted | | |
19 March 2010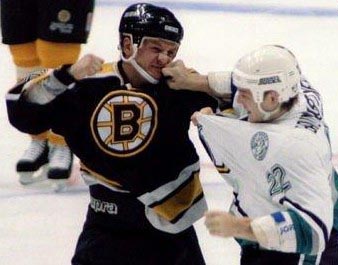 BOSTON, Massachusetts -- It took 1:58 into Thursday's hockey game--and 2 seconds following the appearance of Pittsburgh Penguins goon Matt Cooke--for the gloves to come off.
Shawn Thornton, the goon of the host Boston Bruins, took Cooke down to the ice and kept punching. The players got matching 5-minute penalties for fighting. Thornton got an additional 10 minutes for "misconduct," as opposed to regular fighting, which is not misconduct.
The fight was widely anticipated retaliation for Cooke's taking Bruins star Marc Savard out of action, probably for the rest of the season, on March 7--an act deemed neither fighting nor misconduct. As previously reported, Boston fans were eagerly awaiting retaliation--or, as New Englanders call it, a come-uppance, during this, the first rematch of the two teams, a game televised on The Cooking Network.
A Bruins fan who identified himself as Biff said, "Yeah, that's what we came to see. When the League won't defend your guys, you gotta take things into your own hands." His 8-year-old son, apparently named Junior, took a tougher line. "Fuck Cooke! said the youngster, "They took out Savard, we should have gone after Crosby! Break his fucking neck!" The tyke was obviously referring to Sidney Crosby, the Penguins' leading scorer.
Boston coach Orange Julius had downplayed the chance of violence at the game. "There is an importantcy for us to win and get ourselves into the playoffs," said Julius, obviously using a word from his native French-Canadian. "The days of the bench-clearing brawl are over." That the Bruins are hanging on to the final playoff spot by their proverbial fingernails is the reason for this importantcy. League "disciplinarian" Colin Campbell attended the game to ensure decorum. Fortunately for the fans, he merely achieved unimportantcy.
Thornton himself met with the press before the game. "You guys can keep building it up all you want, but it's going to be the same old, same old," said the Bruins' "tough guy." That was before he saw Cooke skate onto the ice and immediately tackled him.
The game had another take-down fight; and also, reportedly, had a score, a winner and a loser.
Sources
[
edit
]