UnNews:Bombs rock liberal arts college
Jump to navigation
Jump to search
---
We distort, you deride
✪
UnNews
✪
Sunday, November 28, 2021, 21:18:

59

(UTC)
---
| | | |
| --- | --- | --- |
| Bombs rock liberal arts college | | |
17 January 2007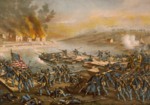 PORTLAND, Oregon (UnReedie)-- At least 70 people have become Republicans and scores mentally injured in a Bush-ordered propaganda sprinkling at a liberal-arts college in Portland, sources say. A barrel of pro-war propaganda descended, fluttering as it floated toward Reed College, and an Army recruiter targeted students as they fled.
Elsewhere on the Left Coast, at least 25 communist agitators, political subversives, and "terrorists" have had their lines tapped by the NSA for "reasons that cannot be disclosed for security reasons." Since his Fraudulency George W. Bush took office in 2001, the first, fourth, fifth, sixth, seventh, and fourteenth amendments to the U.S. Constitution, as well as all limits to presidential and Congressional power in articles one and two, have been abolished indefinately.
The efforts to convince American young people that this war and Bush's "surge" are justified come as the UN reports more than 34,400 Iraqis had died in 2006 in violence across the country. It also said more than 36,000 civilians were hurt during the year. The UN's figures were almost three times that of the Bush-controlled Iraqi puppet state and its titular head, Nouri al-Maliki.
The latest attacks come less than a week after US President George W Bush ordered a psychotic assault which will likely result in total anarchy, reinstatement of the draft, the genocide of an entire generation of young Americans, and hell freezin over. Most of the ill-fortuned patriots are heading for Baghdad in what is expected to be the biggest, most quixotic, one-sided and militarily useless slaughter of U.S. troops since Battle of Fredericksburg in 1862. Bush, however, claims it will be a new "security drive" by "US and Iraqi forces" to rid the city of daily sectarian attacks.
Sources
[
edit
]