UnNews:Baseball fight spills into public view
Jump to navigation
Jump to search
---
Fake News that's honestly fake
✪
UnNews
✪
Monday, December 11, 2023, 12:22:

59

(UTC)
---
| | | |
| --- | --- | --- |
| Baseball fight spills into public view | | |
19 December 2019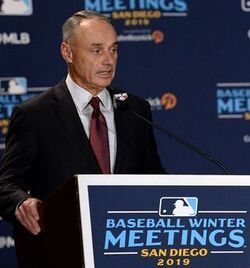 SAN DIEGO, California -- A nasty scuffle between Major League Baseball and Minor League Baseball is getting uglier and more public.
The discussion apparently began over Minor League Baseball's insistence that it should use the abbreviation MLB — despite the obvious ambiguity — and drop the "awkward" abbreviation MiLB, which an MiLB press release says "sounds like something you'd mix in a chemistry lab." But the fight has escalated into money issues and became public at baseball's Winter Meetings here.
Under an agreement that expires after the 2020 season, MLB pays MiLB "scads" of money to conduct the sport in unattractive, small U.S. cities, play in cramped ballparks with malfunctioning toilets, and force budding athletes to wear pink caps, appear at sappy public events, and participate in mortifying between-innings contests with selected season-ticket holders. The MiLB athletes themselves are paid next to nothing for putting their real careers on hold, but spend entire summers improving their game in hopes of breaking into the majors, where they will become instant millionaires pursued by long lines of Baseball Annies, plus fat couch potatoes seeking just a single stack of autographs to put on eBay and bask in the glow of reflected money.
But Baseball Commissioner Rob Manfred Mann wants a substantial renegotiation of the deal. Seeking to cut costs, he would remove MLB affiliation from 42 MiLB clubs, about one-fourth of the total. Those clubs would join the mess of independent baseball, college-summer baseball, adult semi-pro, and table-top dice simulations; and their appeal would be exclusively to parents with children too small to ask, "Daddy, if we lose, do we own the tie-breaker?" — in short, fools who are smitten to be somewhere near men in uniform and who never ask what exactly they are playing for. The remaining hundred-odd clubs would still be able to state what the athletes are playing for: the ability to leave town and play somewhere real.
The disagreement has gotten so rancorous that it has involved politicians. Mann says, "our players deserve to play in facilities that are up to grade, and to be paid fairly." To that end, he lobbied for the Save America's Pastime Act, which was enacted in 2018. The law, known as SAP, provides for fine minor-league salaries to become merely "fair," mostly by not paying overtime for things like obligatory motivational talks in front of a small-town Chamber of Commerce, or interminable wind-sprints as punishment for throwing the ball to the wrong base.
This year, Mann took his case to presidential candidate Bernie Sanders, expecting him to voice support for the plight of the little guy in this sports industry. Unfortunately, Sanders instead concluded that having over 100 affiliated clubs at which to see a baseball game was as annoying as his signature experience of encountering 29 different brands of deodorant in the supermarket. Sanders said that, in an ideal country he could ordain by Presidential Order, there would be only one baseball team and the entire nation would have to be its fans — a proposition he called "Mets For All."
Sources
[
edit
]