UnNews:BBC fire DJ for on-air phone sex scandal
Jump to navigation
Jump to search
---
Where man always bites dog
✪
UnNews
✪
Monday, December 6, 2021, 16:55:

59

(UTC)
---
| | | |
| --- | --- | --- |
| BBC fire DJ for on-air phone sex scandal | | |
4 November 2006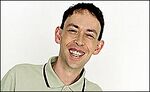 London, UNITED KINGDOM Radio 1 presenter and Colchester's first ever supermodel Steve Laspacq has been summarily dismissed by the BBC from its flagship radio station for having phone sex with a Ford Cortina live on air.
Radio One boss Rex the Runt said in a press conference, "We were already worried that Steve is spending too much time vainly promoting his obviously stunning looks rather than make the oblique references to his beloved Colchester United FC and playing indie music that's so obscure and crap it's too hard to stop listening because of the hernia you laughed yourself is preventing you from moving and switching off the radio. This latest episode is just beyond the pale."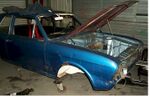 The incident occurred during last Monday's In nude music we thrust show when Laspacq forgot to turn off his microphone during a Linvoy and the Ferret Molesters song and was clearly heard, live on national radio, having a telephone conversation with a Mk II Ford Cortina about his stunning good looks and fantacising about a sordid sexual encounter. Unbeknown to Laspacq, the listeners could hear the whole lurid conversation between the rusty venerable old runner and the Ford Cortina, which ended with the immortal words, "You might not have any wheels, but that was the best ride of my life."
Sexy Steve, nickednamed Spacko by DJing legend John Peel has been dogged by controversy ever since he began writing for the NME (Numbskull Minging Emos) in 1865. He originally got sacked for having an affair with the editor's pencil sharpner in 1902 before being reinstated after a campaign from NME reading carrier pidgeons with political affliation to the Clap Your Hands Say Yeah party. He has also been responsible for bring some great hits to the attention of the music world, such as Mr. Blobby and John Barnes and his seminal classic rap in the "Anfield Rap".
Steve Laspacq has denied that he was sacked for bring his "unconventional" sex life onto the airwaves, but rather that the BBC have instead got a TV show lined up for him after his unqualified success playing Gollum in The Lord of the Rings. "Everyday I get phone calls from television producers who just want me for my body. ITV want me to do a new series of Gladiators and the market is very favourable for Kissograms in Colchester. Although it's flattering to receive all the attention over my gorgeous body, I want something a bit more cerebal and something that can make a real difference in society. Do you want to see the boil on my shoulder blade or want to know why my left ear sticks out like a wing mirror?"
Your intrepid reporter politely asked for an autograph and left swiftly, checking that his Ford Cortina had not been violated.
Sources
[
edit
]
Phil Parksinhisson "[httrp//www.sickstevelaspacqporn.com Steve Laspacq's homepage]". BBC, November, 12, 1873