UnNews:Ark of the Covenant has been stolen
Jump to navigation
Jump to search
---
UnFair and UnBalanced
✪
UnNews
✪
Sunday, November 28, 2021, 20:28:

59

(UTC)
---
| | | |
| --- | --- | --- |
| Ark of the Covenant has been stolen | | |
12 February 2008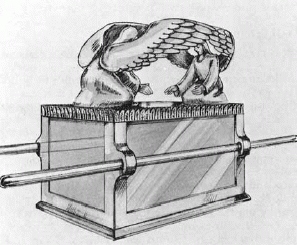 Nevada, YHA – It's reported that Ark of the Covenant has been stolen from the secret chamber of hidden Area 51 last night. According to an eyewitnesses, a group of MIB (Men in Black) furtively sneaked into the secret military base and stepped out with a labeled wooden box which is written "Ark of the Covenant" on it. One of the eyewitnesses C.A. (31) also notified that he had heard these men were speaking in an odd language which might be in Arabic he suppoused. After boner school this evidence come out, it's rumored that the guerillas of Palestinian Liberation Army may have stolen the Ark to amplify the power of "intifadah" against Israel and one of the Palestinian Jihad leader's speech in West Bank is shown as proof. The Jihad leader has said that By Allah, they will strike Israel back with their own weapon. The high-rank officers of Pentagon declined all of these claims and refused the existence of the Ark or Area 51, furthermore they preferred not to make any comments.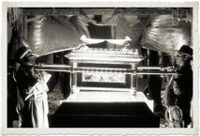 Ark of the Covenant was discovered near Cairo in 1936 by Henry Walton Jones Jr., professor of archaeology at Princeton University. Dr. Jones had travelled from Nepal to Egypt to reveal the secret place where the Ark was hidden, at last and found it in an archaelogical excavation site managed by Nazis in Egypt. Nazis both wanted to seize the Ark according to their plan to rule all over the world with its power, so Dr. Jones had to encounter Nazis and brought the ark with him to US in 1937. It was a kind of nuclear reactor invented aprrox. 4000 years ago by Moses the Jew in order to estabilish communication between his people and YHWH, which was a spaceship leads them from air to find their way through deserts to promised land. It was the ultimate technological achievement of all ages and also a secret weapon that destroys enemies of Hebrews.
After his glorious discovery, ms. Jones had to retired because of increasing pressure of US government on him and forced to keep in silence about Ark. Before his suspicious death in 1976, he wrote his memories under the name of "Dr. Jones and Ark of Covenant", which is found and filmed by Steven Spielberg in 1981 as "Raiders of the Lost Ark".
As soon as rumors reached Vatican, Pope Benedictus X-Vi urgently assembled the council of cardinals and set up a comitte of inquisition to investigate the Lost Ark and if necessary to interrogate Dr. Jones. Now it's wondered how inquisition will question Dr. Jones.
Sources
[
edit
]